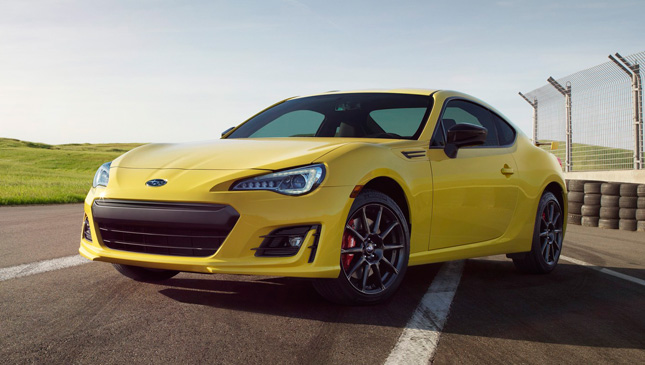 It was only a couple of weeks ago when Subaru of America unveiled the enhanced 2017 BRZ. Though seemingly minor, the upgrades were enough to make any BRZ fan leap with delight. Apparently, Subaru was just warming up.
Not it has announced the availability of a special variant: the Subaru BRZ Series.Yellow (yes, there's a period in the variant name). Revealed at the "Wicked Big Meet" event in Stafford Springs, Connecticut, the cool new coupe sports a (you guessed it) bright-yellow exterior finish. The striking hue gives the already racy lines a more vibrant demeanor.
The adrenaline-inducing shade is backed up by performance toys that help make the drive more fun and safer as well. The brakes, for instance, have been tweaked by Brembo and are given four-piston calipers up front and dual calipers out back. This helps increase stopping force and fade resistance. The uprated coil springs with larger rear stabilizer bars for the 2017 model have been endowed with even better handling, thanks to Sachs performance shock absorbers.
ADVERTISEMENT - CONTINUE READING BELOW ↓
This bit of fine-tuning aids significantly in cornering and even ride comfort. It really gives the sporty two-door the everyday usability coupled with driving fun that has made the car a hit since it was first launched a few years ago.
Going back outside, the Series.Yellow adds stuff like black exterior mirrors, black 17-inch alloy wheels, and darkened BRZ and Subaru logos. These ebony bits contrast nicely with the bright-yellow paint scheme, and are matched by the yellow contrast stitching found on the leather-and-Alcantara seats, steering wheel, door panels, and dash. Those supportive front perches are embroidered with a yellow BRZ logo, while the floor mats come with the same yellow contrast and BRZ badge, this time in silver.
The BRZ Series.Yellow will still be powered by the same 2.0-liter four-cylinder boxer motor that puts out a stout 205hp and 211Nm. While it may not exactly be the most potent engine out there, its low center of gravity makes for loads of fun while on the limit.
And speaking of limits, the Series.Yellow will be limited to just 500 units. Wouldn't it be nice if our market could get a similar paint job for the BRZ?