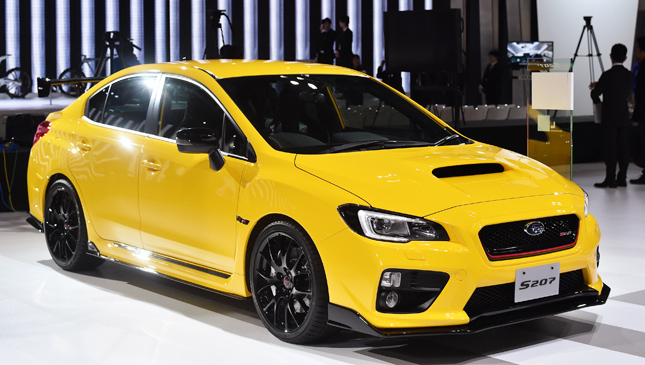 Many are saying that Subaru has become more mainstream lately. This observation comes from the number of crossovers it has introduced to the market. Models like the XV, the Forester and the Legacy are aimed more at families and lifestyle-oriented individuals.
But to say that the company has lost its touch as a sporty brand is unfair. The Japanese carmaker still caters to driving enthusiasts with models like the WRX and the WRX STI, as well as the BRZ. And at the ongoing Tokyo Motor Show, it has just introduced a model that promises to bring excitement back behind the wheel. Meet the S207.
The car was developed by Subaru Technica International (STI) and traces its roots to the Impreza WRX STI, off which it is based. While the latter is already exciting on its own, STI has given it a bit more oomph in the way of a tuned engine, suspension and a tweaked exterior and interior.
Under the metal, one will find tuned STI Bilstein front and rear struts, dampers and coil springs, with a Japanese-first DampMatic flexible front strut system, an STI-designed stiffener, front support kit, STI-spec rear pillow bushings, and more bits that help keep the car balanced and controlled at any speed. And speed is exactly what is promised by the STI-tuned version of the EJ20 2.0-liter DOHC 16-valve twin-scroll turbocharged boxer engine that produces 328hp at 7,200rpm, and 431Nm at 3,200-4,800rpm.
Continue reading below ↓
Recommended Videos
Apart from the awesome straight-line performance this rocket can do, tech goodies like front-rear active torque vectoring, quick ratio (11:1) steering system, and STI-tweaked Brembo brakes with six-pot front and four-pot rear monoblock-opposed calipers ensure the utmost performance, whether you're on the move or slowing down. Plus, all-road grip is provided by sticky 255/35 R19 rubber wrapped around STI-designed BBS alloys.
Drivers will have an even more enjoyable time piloting the S207, thanks to the exclusive luminescent instrument cluster, leather-wrapped steering wheel, leather shift knob, and even an STI-look push-button starter. The interior is made even sportier with STI-spec Recaro sets, an instrument panel with the S207 logo, side sill plates with the S207 badge, and an exclusive serial number plate to designate which car from the limited production run you have.
The racy interior is matched by an equally attention-grabbing body. The large front spoiler is complemented by the mesh-type grille with a cherry red stripe and the S207 logo. The side sill finished in metal goes nicely with the black garnish.
Buyers who want this car need to reserve a unit before March 6, 2016, as there will only be 400 units produced. If this isn't exclusive enough, one can specify the NBR Challenge edition. This 200-unit limited model features exclusive Ultrasuede-covered steering wheel, red seatbelts, STI-designed 19-inch rims, a dry-carbon rear spoiler with the S207 badge, and an emblem commemorating Subaru's victory in the 2015 Nurburgring 24-Hour Race (after which this variant is named).
We do hope Motor Image Pilipinas brings over a few examples to our left-hand-drive market.