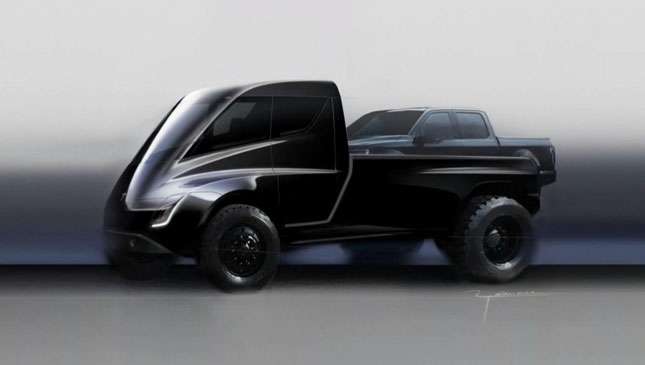 Elon Musk loves a surprise. The Tesla boss caught us napping last week with the reveal of a 402kph EV Roadster, hidden away in his new truck—a truck noticeably quicker than most supercars from the '80s, and one that'll do 805km on a charge. He also loves Easter Eggs. Not the chocolatey ones laid by rabbits in April, but hidden gems in his cars, software or, this time, presentations.
ADVERTISEMENT - CONTINUE READING BELOW ↓
The observant among you will have noticed a slightly smaller but still massive pickup truck hauling a Ford F-150 SuperCrew sketched out on the projector during his speech.
"We created a pickup truck version of the Tesla Semi," Musk said during his presentation. "It's a pickup truck that can carry a pickup truck."
Yeah, not exactly something people are yearning for in Europe, but catnip to the truck-obsessed US market. He later confirmed that you'll be able to drive it with a normal driver's license, rather than a specialist HGV one. Which is odd because it looks huge. Like, Unimog huge. Visually, it looks like the potentially game-changing Semi truck, just with one less axle. So, we'd assume one less motor. But other than the speculative renders, we know little else about this potential pickup.
Reckon it's something Tesla should pursue? Let us know below.
NOTE: This article first appeared on TopGear.com. Minor edits have been made.
ADVERTISEMENT - CONTINUE READING BELOW ↓
Recommended Videos