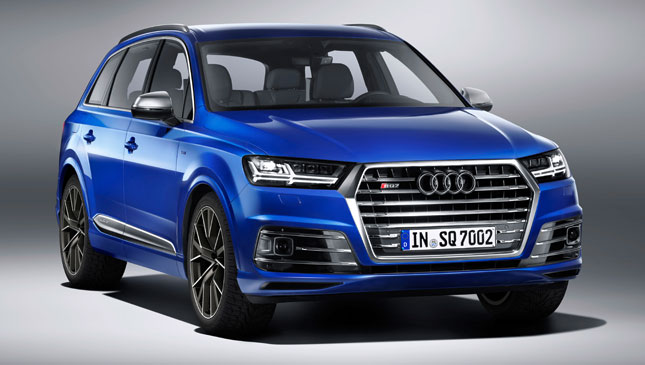 Apparently, the Audi Q7 e-Tron 3.0 TDI Quattro was just a warm-up to the new performance-oriented SQ7. The German carmaker has affixed the S moniker to its top-dog SUV, following in the footsteps of the smaller SQ5. Not only does it boast a tech-rich 4.0-liter V8 TDI engine, it is likewise packed with a lot of world firsts.
The main highlight is the electric-powered compressor. Used for the first time in a production vehicle, it essentially aids the engine's twin turbochargers by providing instant boost on demand. Using a motor separate from the exhaust gas-driven turbos, the system practically eliminates the dreaded lag. Adequate power is assured by a new 48V subsystem. This means there is ample juice, despite the extra electrical load.
The result is a 0-100kph time of a best-in-class 4.8 seconds. This comes from a turbodiesel that produces an amazing 435hp and a gravity-defying 900Nm--making it the most powerful production diesel SUV on sale. Yet it can also be as frugal as they get, averaging 13.5km/L in mixed conditions.
The breathtaking yet efficient performance is courtesy of an all-new Audi Valvelift System that features two cam contours on each of the intake and exhaust cams. What this does is activate the corresponding profile depending on engine speeds and load. This helps provide the needed power and fuel economy at any operating condition. It likewise helps provide the needed push for the exhaust gases necessary to drive the twin turbochargers. All this power is transferred to the drive wheels via an eight-speed automatic gearbox with Audi's drive select system. Thus, you can cruise serenely one moment and have a dynamic drive the next.
Continue reading below ↓
Recommended Videos
The powerful engine is backed up by an optional driving dynamics package. This cool piece of kit consists of a sport differential, all-wheel steering, and electromechanical active roll stabilization. These systems act as a central control unit to help provide either a smooth cruise or flat stable handling at any speed. It helps give the SQ7 a true Jekyll-and-Hyde personality.
The new SQ7 is set apart from its regular Q7 brethren by its twilight-gray matte finish on the radiator grille, tailpipes, and other exterior bits. Of course, owners can configure their SQ7's outer and inner appearance to suit their tastes. And yes, the whole family can also come along as this is a seven-seat SUV.
Set to be rolled out in global markets by the second quarter of the year, the new Audi SQ7 is one SUV that can be used to haul the family on weekdays and allow dad to indulge on weekends.