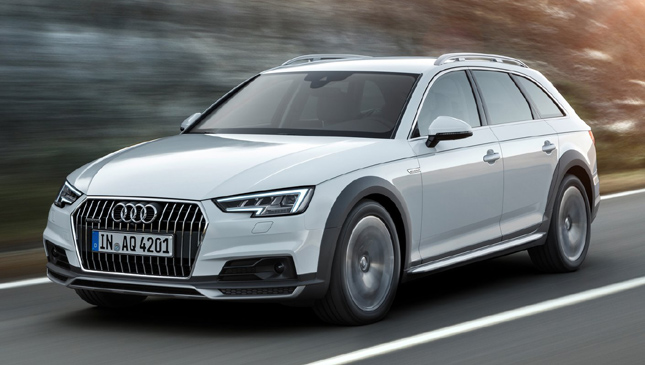 We all know Audi to be the purveyor of all-wheel drive. The Quattro system has been underpinning executive sedans, wagons and coupes for decades, offering exceptional grip and handling. To maximize its potential, however, Audi fielded a semi off-road type of vehicle that combines the traits of the Quattro hardware, an executive wagon, and an SUV all rolled into one.
The result is the ultra-cool A4 Allroad Quattro. First came the A6 Allroad Quattro back in 1999, followed by the smaller yet equally capable A4 Allroad Quattro in 2009. And just as the new-generation A4 debuted a few months back, it was almost certain that the new Allroad model would make its grand appearance.
The latest A4 Allroad Quattro was first revealed in concept form earlier this year at the North American International Auto Show in Detroit. The good news is that buyers who want one can now place their orders. The production version retains the same rugged and stylish looks of the show car. The tall, 34mm ground clearance is complemented by touches like underbody cladding, a silver rear diffuser, 17-inch alloy wheels, and roof rails. The signature Audi Singleframe grille is flanked by the chic headlights.
Would-be owners can choose from either a 2.0-liter TFSI gasoline or a 2.0-liter TDI diesel. The real treat for most buyers, though, would most likely be the two 3.0-liter TDI motors that produce either 216hp or 272hp. Each of these powerplants is available with the new-generation Quattro all-wheel drive system--the next step in the legendary drivetrain. This new Quattro system promises even better driving characteristics while at the same time consuming less fuel.
Continue reading below ↓
Recommended Videos
Want one? Well, you'll need to hail from Europe to park it in your garage (at least for now). But we're pretty sure other markets will soon get the fashionable off-road wagon--including ours. With cars like the Subaru Outback and the Volvo V40 Cross Country selling quite well, it only seems natural for Audi to jump into the ring with all wheels spinning.