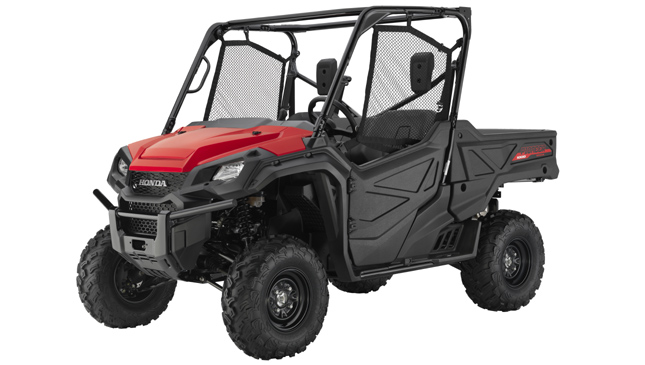 When one thinks of Honda, images of Civics, Accords or even CR-Vs come to mind. If you're a bit older, these images may also include a few motorcycles. But did you know that Honda also manufactures recreational vehicles known as side-by-side vehicles?
Well, they do, and one of these is the Honda Pioneer 1000. A quick glance at the Pioneer 1000 shows you an open-air, four-wheel contraption that looks as tough as a lawn mower, yet is capable of going over terrain that most cars wouldn't even dare tread--the perfect vehicle for the outdoorsy badass.
This little Honda runabout is essentially an all-terrain vehicle capable of seating up to five individuals, depending on which variant you choose. Powering the Pioneer is a small, frugal yet potent 999cc Unicam two-cylinder motor (Honda is still a motorcycle maker, after all), mated to a six-speed dual-clutch transmission. The gearbox also has a high-low switch to make full use of the vehicle's standard four-wheel drive system and four-mode differential lock.
With a ground clearance of roughly 327mm, the base Pioneer looks set to appeal to the rugged lifestyle of the nature-loving adventurer. You can choose from three other variants aside from this base model. Depending on which one you choose, your Pioneer 1000 could be packing features such as electric power steering, a tilt-adjustable steering column, paddle shifters for manual mode, body-colored side panels, self-leveling suspension, and even LED headlamps--enough features to mistake this side-by-side for an on-road Honda vehicle.
Continue reading below ↓
Recommended Videos
The three-seater Honda Pioneer 1000 starts at $13,999 (P640,454), with the top-spec five-seater Deluxe model going for $17,999 (P823,454). Sold in the US market, this little Honda looks like a fun-loving vehicle that could prove both useful and entertaining to anyone looking for a more unique off-road experience. The Pioneer 1000's small size, rugged durability, and off-road capability could make for a versatile emergency response vehicle, especially here with our tight streets and flood-prone areas.
Or just a weekend toy for the boys.