Next-generation car buyers want versatile vehicles that can do pretty much everything. Just like their favorite gadget, their ride must also be customizable--being a daily commuter on weekdays and transforming into a weekend warrior when Friday comes around. Sound crazy?
Hyundai thinks that this is what the youth of today would look for when they start shopping for their first car. And this is what the new Hyundai Carlino offers. Unveiled at this year's Auto Expo in New Delhi, India, the Carlino is the South Korean carmaker's take on the future of urban mobility.
The subcompact urban crossover is short and easy to handle since its length is less than 4m long. This will make it truly a breeze to drive in and around our city spaces. Its stylish exterior exudes the kind of look that most kids wouldn't be ashamed being seen in. It's hip and cool, to say the least.
The design is an evolution of Hyundai's style language, backed up with graphics and colors that bring out its youthful appeal even further. A notable feature worth mentioning is the set of tires. Designed by Korean tire maker Kunbo, they have a shoulder block design that aids in giving the CUV better traction in the mud and on other slippery surfaces. Apart from this, the square-and-line tread pattern comes with what they call stone ejectors that, as the name suggests, help eliminate those nasty stones from being lodged in the rubber. While most people won't be taking their Carlino off-road, it's nice to know it's prepared for the rough stuff.
ADVERTISEMENT - CONTINUE READING BELOW ↓
Hyundai's Carlino isn't just versatile in its design and execution on the outside. The interior is likewise fitted with plug-and-play modules that allow for the utmost in customization. The owner can fit new audio, video and navigation panels to suit one's taste and moods. Even the reverse camera is wireless. And the hip crowd will appreciate the push-button start system, six airbags, and hill-start assist.
At present, the Carlino remains merely a concept vehicle for the young to marvel at and aspire for. Will it ever make it to production? And will the target market approve of it? Only time can truly answer these questions.
Photos from Hyundai Motor India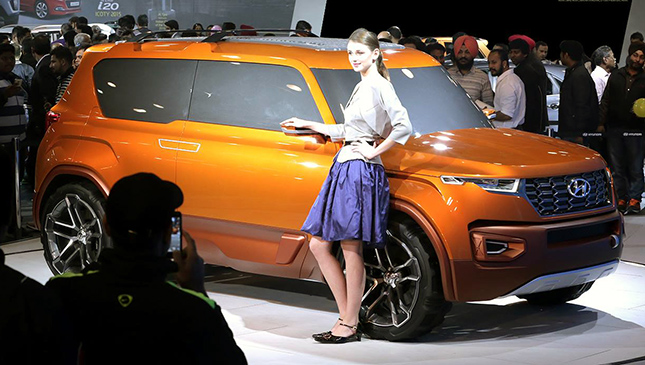 ADVERTISEMENT - CONTINUE READING BELOW ↓
Recommended Videos