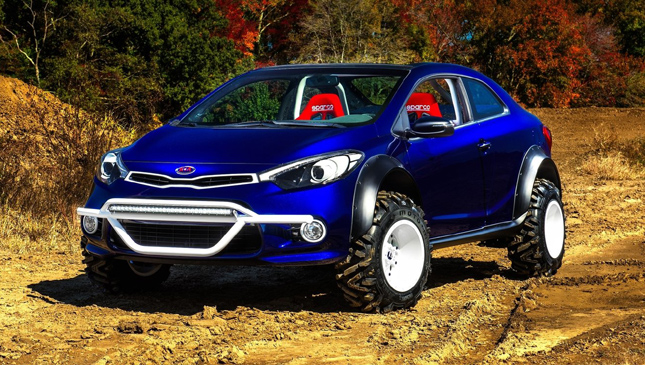 The SEMA (Specialty Equipment Market Association) Show in Las Vegas can feature some of the most outlandish vehicles on the face of the planet. It really is impressive seeing just how far the human imagination can go when it comes to modding vehicles. Case in point, this Kia Forte Koup Mud Bogger.
The Mud Bogger is a modified Forte Koup designed with one objective in mind: to get down and dirty. Kia describes the vehicle as an automotive representation of the American south. We, on the other hand, prefer to look at the concept as a lovechild between a Tonka truck and a four-door daily-driver.
A four-inch lift to the vehicle's suspension and body gives it the clearance necessary to play around in less-than-ideal conditions, while a chubby set of 28-inch off-road tires allows it to maintain its grip on extreme terrain. Custom-built side skirts and fender flares make sure that the Bogger looks the part. And to top it all off, designers decided to give it a panoramic roof with a vinyl pushback top.
Inside, this Forte has been stripped down to the bare essentials. A special protective coating was applied where the vehicle's carpet used to be, while stock seats made way for a pair of Sparco Evo II race seats in red. The Mud Bogger also features a custom hand-built protective roll cage to keep occupants protected when things get a bit too rough.
Unfortunately, we don't have any details yet regarding modifications under the hood, if any. The purpose-built off-roader is currently on display at the SEMA show in Las Vegas, along with the rest of the event's impressive array of modified rides.