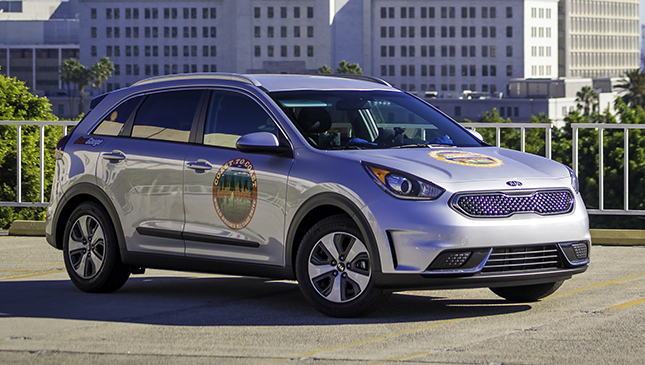 Remember the Kia Niro? It's the handsome hybrid utility vehicle (HUV) the Korean carmaker released earlier this year. Well, the electric/gasoline-powered vehicle managed to set a new world record for lowest fuel consumption during a drive from Los Angeles to New York—another nail in the coffin for environment-unfriendly vehicles.
Just how efficient was the HUV over the course of its coast-to-coast odyssey? The Niro managed to eke out a very impressive 32.56km/L, consuming a measly 183.59 liters of fuel—or 4.1 full tanks—for a 5,979km journey. The record-setting figure was made official by Guinness World Records yesterday, after the vehicle arrived at the New York City Hall in downtown Manhattan.
Orth Hedrick, vice president of product planning for Kia Motors America, says the feat is a testament to the Kia Niro's superb quality: "We set out to build a vehicle that offers real-world utility, great looks and fantastic mileage, and setting the Guinness World Record title confirms our achievement."
The HUV was manned by Wayne Gerdes and Robert Winger and wasn't modified in any way, the company says. The Niro runs on a 1.6-liter Kappa gasoline engine and a transmission-mounted electric motor powered by a lithium-ion polymer unit. The reduced weight of its battery and high-strength steel and aluminum reinforcements allows it to make the most of its efficiency.
At this point, there's no denying that electric motors are the way of the future. It's kind of sad actually, because it seems like everyone's enjoying hybrid tech save for us here in the Philippines. Maybe someday, right?