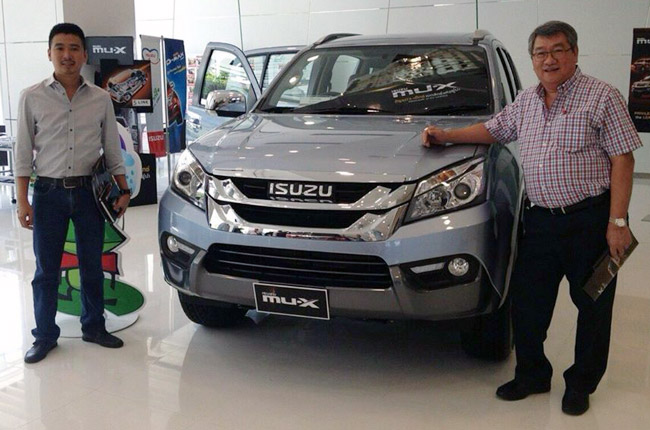 Those who have been complaining that the Isuzu Alterra is now really, really old, here's some good news: Its replacement, the much-awaited Isuzu MU-X from Thailand, will be launched in our market very soon. How do we know that? Here are photos of the MU-X sent to us by a reader, who says these came from a friend who owns an Isuzu dealership.
We are still not 100% sure whether the official Philippine name of the new SUV will be "MU-X," but it looks like it if the vanity plates are anything to go by--unless these photos were taken in Thailand during a dealership convention or something, which could be the case considering the doors are opened on the right side (people usually open the doors on the driver's side when inspecting a new car). But even assuming these photos were snapped in Thailand, we have sources who swear the Alterra successor is indeed arriving soon. Chances are Isuzu Philippines already has units parked inside its headquarters in Laguna.
We still don't have the official specs, but we'll provide them as soon as they become available. In the meantime, you might want to hold off on your SUV purchase and wait for this new Isuzu offering first. Like the outgoing Alterra, the new MU-X will compete directly with the Mitsubishi Montero Sport, the Toyota Fortuner, the Chevrolet Trailblazer and the upcoming Ford Everest. The local distributor of Isuzu liked to classify the Alterra as a "full-size SUV," but it really was just a midsize model. A full-size SUV would be the likes of the Ford Expedition and the Chevrolet Suburban. Unless the MU-X is significantly larger than the Alterra, it, too, should be filed under the category of midsize sport-utilities.
Continue reading below ↓
Recommended Videos
We're betting that the MU-X (or the new Alterra, if the name will be retained) will be the centerpiece of Isuzu Philippines' display area at the Philippine International Motor Show in September.
UPDATE: We changed the title to acknowledge the probability that these photos--which show the owners of an Isuzu dealership in the Philippines--may have been taken in Thailand. We do, however, stand by our belief that odds are high Isuzu Philippines already has units of the new SUV.