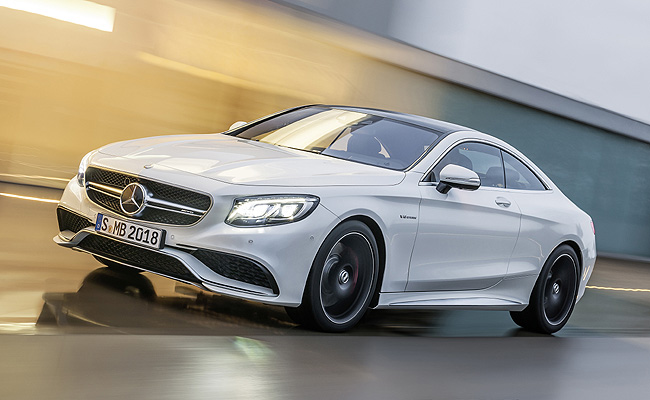 If you think the Mercedes-Benz SLS AMG is too old but you also can't wait for its successor to arrive, then this may be your interim solution: the S63 AMG Coupe.
Powered by a 5.5-liter V8 AMG biturbo engine, it's the most powerful of the German carmaker's BlueDirect family of environment-friendly engines with a power output of 585hp and a maximum torque of 900Nm. Compared with the CL63 AMG, the S63 AMG Coupe is more powerful by 41hp and 100Nm, yet is more fuel-efficient with a mileage of 27.9mpg (11.862km/L), making it "the most fuel-efficient model in its competitive segment." Paired with the engine is a multi-clutch SpeedShift seven-speed sports transmission.
While the S63 AMG Coupe has the same Magic Body Control system that's in the flagship S-Class sedans, the car has what Mercedes-Benz calls a world's first for production cars with its curve tilting function. According to Mercedes-Benz, the system allows the car to lean into bends "in a manner similar to a motorcyclist or skier," reducing the lateral acceleration acting upon the occupants when the car is taking a curve sharply. The curve tilting function can be selected as one of three drive modes and is active at speeds from 30kph to 180kph.
Continue reading below ↓
Recommended Videos
Besides the curve tilting function, the S63 AMG Coupe's Magic Body Control is integrated with Road Surface Scan and Active Body Control systems. With Road Surface Scan, surface undulations are detected in advance thanks to a stereo camera. Active Body Control, on the other hand, adjusts the vehicle's suspension struts through hydraulic cylinders that adjust the force in each strut individually, allowing the vehicle to incline automatically and continuously in fractions of a second and at angles of up to 2.5 degrees in curves, depending on the road angle and vehicle speed.
The S63 AMG Coupe also makes use of AMG's lightweight performance strategy, which has reduced the vehicle's weight by 65kg, largely through the use of a lightweight lithium-ion battery, forged light-alloy wheels and a weight-optimized high-performance composite braking system. Furthermore, the car's entire outer skin and front end are made of aluminum.
The S63 AMG Coupe will make its public debut at the New York International Auto Show in April, with sales commencing by the end of 2014.