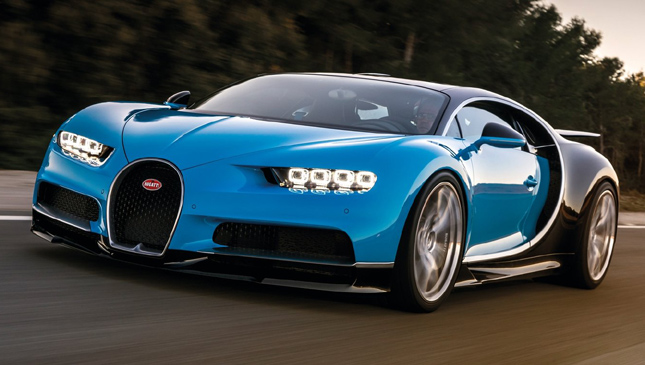 Just how powerful can a car be? This is the question on our minds these days, on account of all the new crazy-fast vehicles joining the seemingly mad horsepower race. For those keeping score, the Bugatti Veyron Super Sport held the title as the most potent production car, at 1,200hp and a top speed of 430kph. That record, however, might just be broken soon.
The car that's looking to top the Veyron Super Sport is likewise from the same French car manufacturer. Say hello to the all-new Bugatti Chiron. Launched at this year's Geneva International Motor Show, the Chiron is the latest super rocket-on-wheels to roll out of Molsheim, France.
The Chiron's quad-turbocharged 8.0-liter W16 motor packs a whopping 1,500hp and an even more insane 1,600Nm from 2,000rpm to 6,000 rpm. Thanks to the aforementioned set of four large twin-stage turbos, this supercar can outrun just about anything on the road. In fact, 0-100kph times seem insignificant here as Bugatti would rather talk about top speed--which is set at an electronically governed 420kph. Of course, owners can choose to disable this and go flat-out as well.
Apart from the eye-watering velocity, the car also promises a truly fun time behind its wheel with an adaptive chassis, a lightweight carbon-fiber monocoque frame, a specially tuned suspension setup, and tires specifically designed for this model.
Continue reading below ↓
Recommended Videos
The Chiron also has the looks to back it up. It's a mix between traditional Bugatti styling cues and modern visual flare. It actually looks as sleek as a fighter jet. Perfect, because we half-expect this to fly off the pavement.
Think this is all hype? Would you believe us if we told you that one-third of the 500 units--priced at 2.4 million euros (P123,177,160) each--have been reserved already? We're assuming that it shouldn't be too long until supply runs out. So if you've got a couple of million Euros to spare, you had better move quickly.