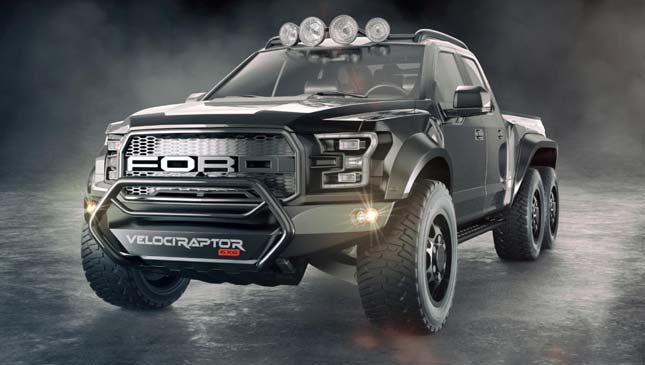 Hennessey Performance is adhering to a long-held TG philosophy that more wheels are better. The Texan outfit is adding an extra pair of wheels to the hotly-anticipated 2017 Ford Raptor. Along with more power. Obviously.
It's called the VelociRaptor 6X6 'concept', though it wears that suffix loosely. It's happening. TG is excited.
Hennessey's kit includes locking rear axles, upgraded Baja-spec Fox suspension, new 20-inch wheels, chunky off-road rubber, beefy get-the-hell-out-of-my-way front and rear bumpers, a new rollbar, and blinding LED lights. We're not sure if it'll be as sophisticated as Mercedes' six-wheeled G63 (twin suspension for each wheel assembly, portal axles, and more diff locks than you can shake an input shaft at), but at £230,000 (P13.8 million), Hennessey's Raptor is a lot cheaper than the £370,000 (P22.3 million) G63 6X6.
You can of course upgrade your VelociRaptor to '600' spec. Ticking that particular box gives you bigger turbos attached to the 3.5-liter EcoBoost twin-turbo V6, and a dyno receipt that reads in excess of 600hp. Quite a jump over the standard 450hp, but still fed through Ford's new ten-speed transmission.
ADVERTISEMENT - CONTINUE READING BELOW ↓
There's more than that. You also get new exhaust tweaks, an upgraded front-mounted air-to-air intercooler, and a flash of the ECU to give more grunt and goodness. Then there are the options: a Brembo front and rear brake upgrade (highly-recommended if you're juicing up the power), larger wheels and tires (beneficial if you have a large Instagram following), LED lighting upgrades, bespoke interiors (if you like animal patterns), and armoring systems (if, erm, you get shot at regularly).
There's no word on when it'll be available, but the VelociRaptor 6X6 can be ordered directly from Hennessey Performance or through select Ford dealers (in the UK) now. Form an orderly line.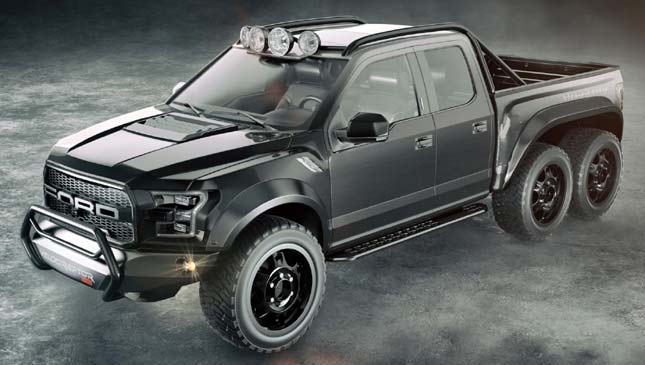 ADVERTISEMENT - CONTINUE READING BELOW ↓
Recommended Videos
NOTE: This article first appeared on TopGear.com. Minor edits have been made.