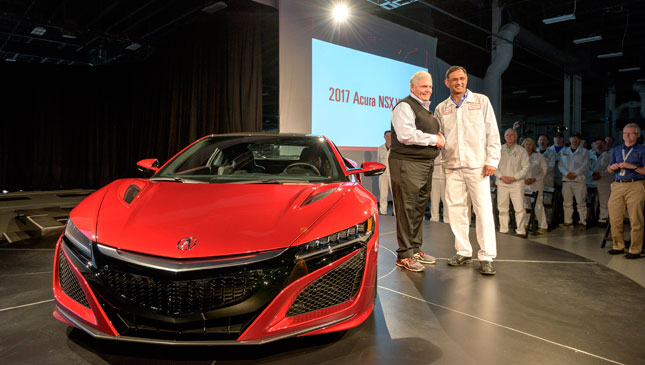 It has been 11 years since the first-generation Honda NSX ended production, and nine years since the teasing for a successor began. At long last--after delays, prototypes and motor-show exhibitions--the first production NSX has been released. (This unit, however, wears the Acura badge as this is in the US market.)
At the Performance Manufacturing Center in Marysville, Ohio, the sole factory where NSX supercars are made, master craftsmen mix science, art, skill and precision engineering to produce automotive dreams.
The first car, bearing vehicle number 001, is a special unit. Not only does it mark the beginning of a new era at Honda, it will also go a long way in helping people in need...literally. Rick Hendrick of Hendrick Motorsports bagged the made-to-order NSX early this year. Hendrick paid $1.2 million (P56.1 million) at a Barrett-Jackson auction for first dibs at this hot Honda. While this sum is way higher than the regular NSX price of around $150,000 (P7 million), the amount will benefit the Pediatric Brain Tumor Foundation and Camp Southern Ground.
There are also features exclusive to NSX VIN 001. His Valencia Red Pearl unit gets interwoven wheels, leather and Alcantara interior, carbon-ceramic brake rotors, and carbon-fiber trims (engine cover, roof and deck-lid spoiler). And as we all know, the new NSX has Sport Hybrid Super Handling All-Wheel Drive (only the Japanese would put "Super" in a car system's official name), superior aerodynamics with multi-material bodyshell, and a cabin that is both racy and comfortable. Remember that the original NSX set the bar for comfort in supercars, when its contemporaries at that time had no regard for human spinal columns.
And as the first series-production model rolls off the line, we can expect more to follow. We hope a local sighting isn't too far off.