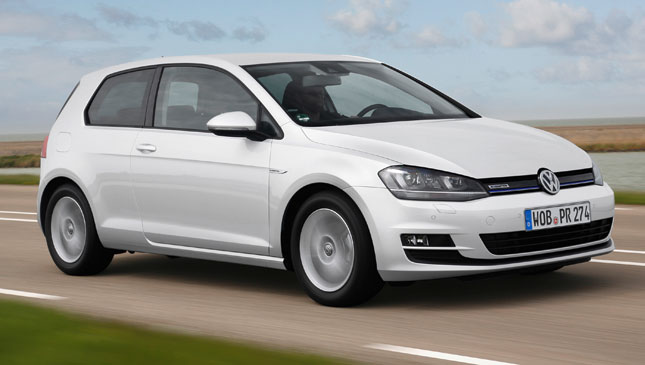 When shopping for a new car, buyers often choose between two things--economy and performance. Depending on their priorities, the choice usually boils down to a small econobox that saves them money at the pump, or a larger car, like a midsize sedan or an SUV, that may sacrifice a bit when it comes to consuming precious fuel. But what if you could have the best of both worlds, and in a practical package at that?
This is what Volkswagen offers as it introduces the latest variant of one of the world's favorite hatchbacks, the Golf. The Golf TSI BlueMotion may look like your typical MkVII Golf from the outside, yet inside it offers something extra special under the hood--a powerful yet fuel-efficient engine.
Powering this Golf is a 1.0-liter, three-cylinder engine. Don't let the tiny displacement put you off, though, as this motor employs direct-injection and VW's vaunted TSI technology. In plain English, this motor is turbocharged and produces 113hp and an even more impressive 200Nm. If you know your engines, you'd know that these figures, specifically the torque, are equal to those of a larger 2.0-liter four-cylinder powerplant.
Volkswagen fans might note that the BlueMotion badge used to be attached only to diesel (TDI) and natural gas (TGI) models. Now, VW can apply it to this gasoline engine as the little TSI three-pot is said to average around 23km/L, all while being able to reach a top speed of 204kph. That's even better than the TDI version's average of 22km/L.
Continue reading below ↓
Recommended Videos
What's truly cool about this new Golf is that you can have this engine in either Trendline or Comfortline variant, and seat five people comfortably. Plus, you can enjoy such standard equipment as auto post-collision braking, XDS electronic locking differential, regenerative braking, and seven airbags, just to name a few.
The Volkswagen Golf TSI BlueMotion will initially be available in Germany, and be sold in other markets soon after. We hope that includes the Philippines.