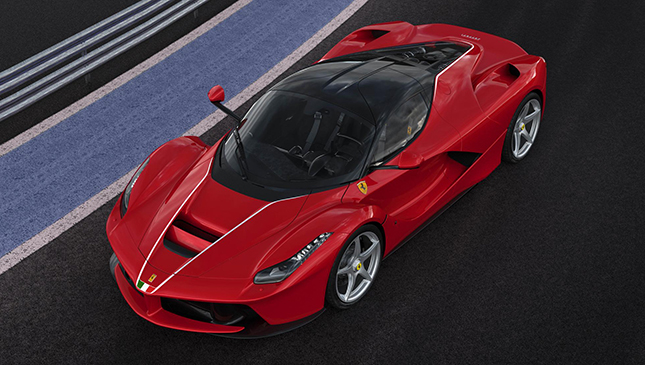 Not so much a hybrid, as a V12 hypercar with a punch of electric nitrous. This, ladies and gentlemen, is the very last LaFerrari ever built—number 500—and it is coming up for auction this weekend.
You'll recall that a few months ago, Ferrari boss Sergio Marchionne revealed his plans to build one final LaFerrari and offer it up for sale, the proceeds of which will go to charity. That charity, of course, is the reconstruction of central Italy following the devastating earthquakes earlier this year.
So this is it. The last ever LaFerrari you can actually buy straight from Maranello. It's apparently got a "one-of-a-kind" interior which we haven't yet seen, and also features a special plaque to commemorate the occasion.
The bits we do know? That it houses a 6.3-liter V12, an electric motor for additional boost, 950hp and over 899Nm, the ability to go from 0-100kph in 2.9 seconds, 0-200kph in 6.9 seconds, 0-300kph in 15 seconds flat, and top out at over 351kph. So pretty quick, then.
It's been offered up for auction via RM Sotheby's in collaboration with the National Italian American Foundation's Earthquake Relief Fund. The venue? Ferrari's 'Mondiali' end-of-year bash at Daytona this weekend.
"It is an honor for RM Sotheby's to be entrusted with the sale of this important car and to help raise significant funds for a desperate cause," says Rob Myers, CEO and chairman of RM Sotheby's. "The earthquakes which have struck central Italy this year devastated the lives of thousands of people, and the money raised by the sale of this LaFerrari could not be put to a better use. The auction will be a historic event, and the generosity of Ferrari will change lives in the areas most affected by the natural disaster."
Were you to be chosen for a LaFerrari from the original run of 499, you would have paid over £1 million (P63 million) for the privilege. We suspect this 500th one may go for considerably more…
NOTE: This article first appeared on TopGear.com. Minor edits have been made.