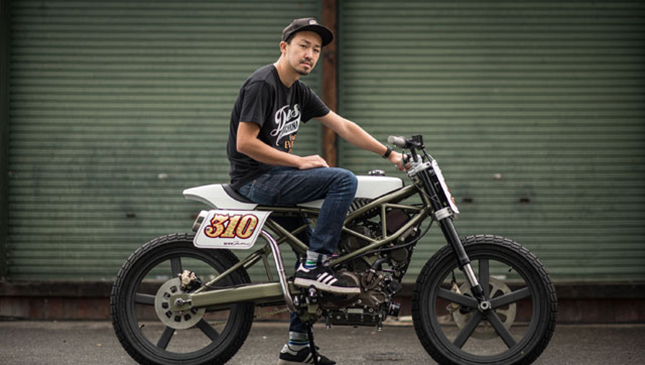 That's no ordinary dirt bike. It might not look it, but what you're seeing is in fact a BMW motorcycle. This one-off American-style Tracker based off a BMW G310R is the creation of Japanese customizer Takashi Nihira—one of the most-decorated builders in Japan.
Inspiration struck Takashi the moment he first laid eyes on the G310R—a 313cc lightweight sports roadster—at the 2016 Tokyo Motorcycle Show. He says he chose the specific look as it reflects the freedom tracker-style bikes gives its riders. "I imagined a lightweight custom bike that could be ridden freely in the city—a bike that could be used daily, but also for longer touring. That's why I also thought about rider lifestyle and fashion when creating this custom bike."
To him, motorcycles are more than just a form of transport—it's an extension of the rider, similar to a pair of sneakers or a jacket, he says. Two months after first seeing it at the show, the bike was sitting in his garage and the former sheet metal worker and dealership mechanic got to work.
"I already had photos and documents of the G310R, but I wasn't able to do anything until the actual bike arrived, and when it did, it was all about the fight against time. There were a lot of challenges, but the most interesting one was the bike's balance," Takashi says. "The G310R has a rear exhaust engine layout, so compared to a standard front exhaust engine layout, this puts the location of the engine more toward the front of the bike, and that changes the whole balance of the design accordingly. I had to readjust my whole thought process to bring out my own style of customizing into the bike."
As much as Takashi enjoyed building it, he says the project also proved to be a real test. He was new to the world of BMW Motorrad, and had absolutely no clue as to what a 'typical' BMW owner would have wanted. In the end, he worked revolving around his own tastes.
"My objective was to try my best to expand on the G310R and show the possibilities of this challenging build. I didn't have another G310R to compare it to, so I hope people like it--I do know I was able to produce my kind of bike." The end result is a perfect example of design possibility and BMW Motorrad customization. As it turns out, Takashi's personal touch is exactly what this project needed.