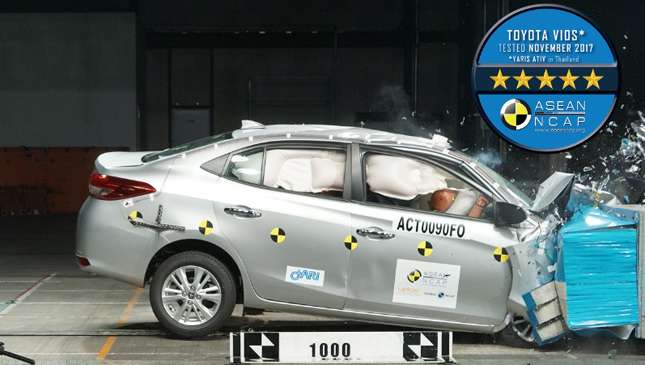 The results of the latest ASEAN New Car Assessment Program (ASEAN NCAP) crash tests are in, and two locally available Toyota models came out with top marks.
Both the Vios and Yaris received five-star ASEAN NCAP ratings, finishing with 44.70 points for adult occupant protection (AOP), 21.66 points for child occupant protection (COP), and 15.28 points for safety assist technologies (SAT) for a total score of 81.63 points out of 100. Do note that only a Vios unit underwent testing, and that its score was simply carried over to its hatchback sibling as well.
ADVERTISEMENT - CONTINUE READING BELOW ↓
ASEAN NCAP secretary general Dr. Khairil Anwar Abu Kassim expressed his satisfaction over the Toyotas' performances in the recent crash tests, saying he was proud that two of the most popular cars in the region managed to get five-star ratings. "Both models obtained excellent results with a good distribution of scores between AOP, COP and SATs," he said.
The Toyota Vios also happened to be the first vehicle which the ASEAN NCAP officially tested in 2012. Back then, the car received a four-star AOP rating and two-star COP rating under testing protocols that have since been updated.
It's nice to know that one of the most prominent cars on our streets also happens to be one of the safest. Do you agree with the ASEAN NCAP's latest crash test results?
ADVERTISEMENT - CONTINUE READING BELOW ↓
Recommended Videos