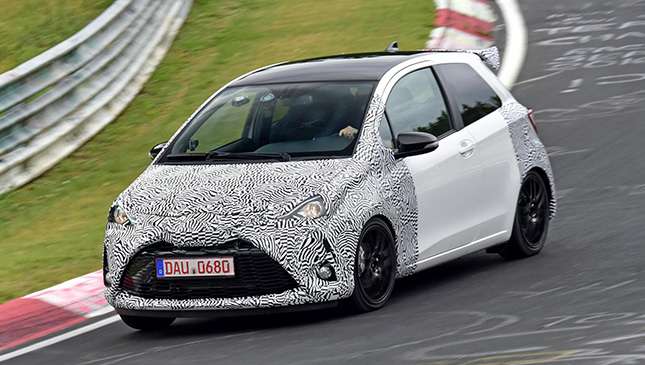 A Toyota Yaris? Why should I be excited?
This is the Toyota Yaris GRMN. It is far and away the most exciting Yaris ever, save for the World Rally car. In fact, it's meant to be the link between regular Yaris Hybrids and the one that competes in the WRC.
As the camouflage tells you, this is still a development car (though we have seen it properly), but it's very nearly finished. We even have specs. Its 1.8-liter supercharged engine produces 209hp and 249Nm.
Modest numbers nowadays, but the Yaris weighs just 1,135kg, so it's capable of 0-100kph in 6.3 seconds on its way to an electronically limited 230kph top speed. These figures all outdo Toyota's own 86.
What does GRMN stand for?
Deep breath… Gazoo Racing tuned by Meisters of the Nürburgring. Really. Gazoo Racing is Toyota's motorsport arm, and a badge we can expect on more performance cars to come.
GRMN editions will always be the fastest and most extreme version of any Toyota road car. And limited too—there'll be just 400 of these Yaris GRMNs in Europe, the UK cars priced at £26,295 (P1.7 million).
ADVERTISEMENT - CONTINUE READING BELOW ↓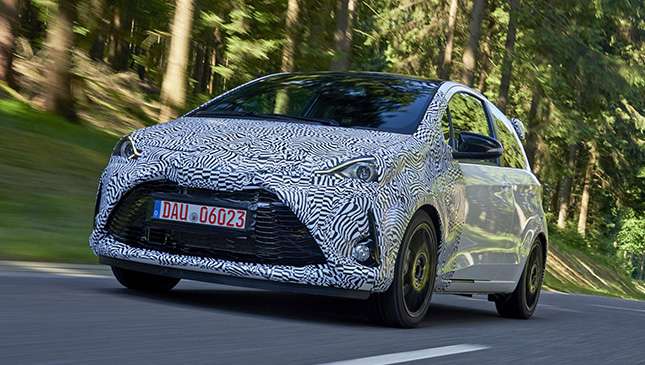 So it's an expensive Yaris…
It is, but your money buys some proper components. There's a Torsen differential on the driven front axle. Sachs has provided the suspension. The wheels are 17-inch BBS forged alloys. And the engine? A supercharged 1.8 that's 95% the same as one you'll find in Lotus Elises.
ADVERTISEMENT - CONTINUE READING BELOW ↓
Recommended Videos
Toyota knows it's a specialist car, but reckons the strong names and components on its spec sheet will draw in at least 400 people willing to pay 86 money for a Yaris. And this is a car unlikely to make a huge amount of profit for Toyota even at that price—it's a brand builder for the Yaris and Gazoo above all.
Is it awesome to drive?
I think so. This is a hot hatchback at its most traditional. You can only have a six-speed manual gearbox, there's a manual handbrake, and once planted in its hugging sports seat, your only choice of driving modes is how tight you want the stability control's reins to be.
Like all the very best hot hatches, only a few kilometers will pass before you start driving it with some proper commitment. Part of that is down to the engine: We've not really had a supercharged car in this segment since the original BMW Mini Cooper S, and after years of turbo hatches it takes some acclimatization. While this Yaris is quick, you have to rev, rev and rev a bit more to get the best out of the engine.
ADVERTISEMENT - CONTINUE READING BELOW ↓
Some might find this laborious, I absolutely love it. Above 5,000rpm—by which point most turbo drivers have probably changed up a gear—the GRMN is just wild, building pace ferociously before its 7,000rpm redline. And it's so loud. The noise is raw and fierce, and quite exciting. Though at anything more than mild throttle it might attract unwanted attention. The development team is still working on this.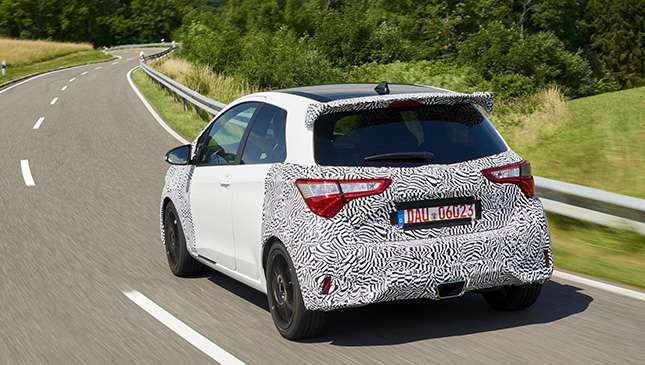 ADVERTISEMENT - CONTINUE READING BELOW ↓
No turbo lag, though?
Indeed. The best bit about having a supercharged engine is the throttle response, which is so much sharper than turbocharged rivals. So it's a shame it's so hard to blip it on downchanges, as Toyota hasn't been able to change the pedal size or position in the car's very short development time. The steering wheel is great, though, being borrowed wholesale from the Toyota 86. It controls steering that's almost perfectly weighted, too. It's so natural and intuitive that you'll make one input in each corner, every time.
The differential is also brilliant. It really encourages getting on the power early to drag yourself out of a corner, but it doesn't define the way you drive the car. It just adds some depth to the car's dynamics and enables some very grown-up cornering speeds for a little Yaris.
Grown-up? I hope it's still fun…
Oh yes. Toyota targeted being the lightest car in class above being the most powerful, and you really feel it behind the wheel. This is a supremely agile car, as you'll find out if you lift off the throttle or brake deep into a corner. It moves around in a far more natural way than something like a Ford Fiesta ST, which is unnaturally hyperactive.
ADVERTISEMENT - CONTINUE READING BELOW ↓
The tires are Bridgestone Potenzas, which aren't the most hardcore on sale, and could be construed as a weak link when the other components are all so serious. The GRMN's development team says it's been designed to be accessible to anyone, and didn't want a sticky track-biased tire that would make the car unpredictable whenever it rained.
The result is a car that moves around a little bit under hard braking and gives up grip before the rest of the chassis has reached its limits. Which might frustrate some, but it means you can drive the Yaris frenetically at pretty sane speeds, so we'd argue they've made a good choice. You can always upgrade the tires yourself if you're not happy.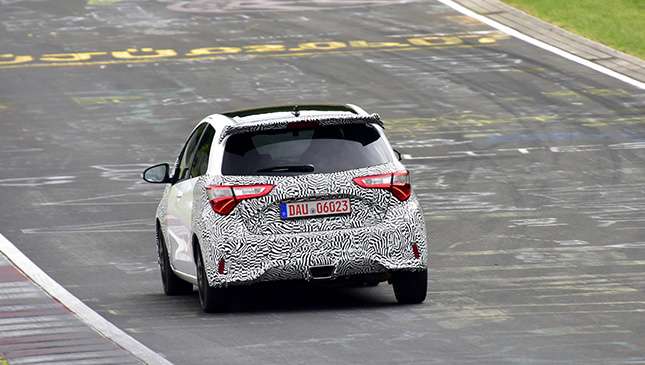 ADVERTISEMENT - CONTINUE READING BELOW ↓
I assume from the name it was developed at the 'Ring?
Partially, yes. Though it's had development time on the road, too, in particular on the Norfolk lanes around Lotus while the team was visiting to develop the GRMN's engine.
"It's not our target to be best on the Nordschleife," says project leader Stijn Peeters. "It's a mistake if you purely use that for your development—you'll end up with a car that's not very nice to drive on the road."
The GRMN does feel pretty stiff. It's not an issue most of the time, but if you encounter a couple of big ruts in a row, the suspension can still be at the end of its travel dealing with the first when you encounter the second. I really like a firmly set up car, but some might see it as unnecessary.
On the 'Ring itself, where we had one flying lap, the Yaris doesn't feel suffocated by the Nordschleife's mighty gradients and quick corners. It feels like a raw little cup car, the diff really coming into its own in the circuit's high-speed corners.
ADVERTISEMENT - CONTINUE READING BELOW ↓
I'll concede I'm not a 'Ring veteran, and anyone who is might not agree. As a car to learn the track's 21km and 73 corners, though, I reckon it's spot on. Enough power not to be overwhelmed, yet not so much you're scared of wringing its neck. You'll probably want to swap tires if you're thinking of setting a lap time, but Toyota's modest rubber choice proves it really isn't looking to break records here.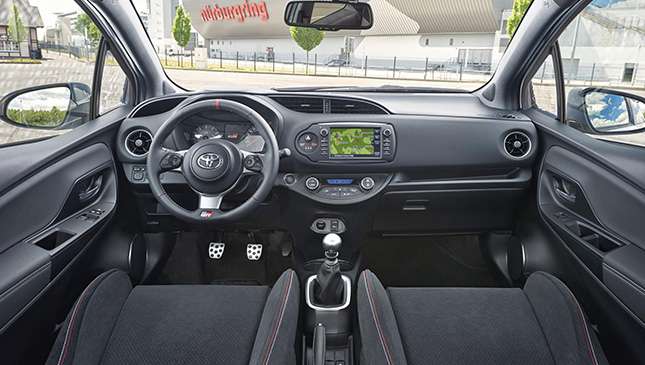 ADVERTISEMENT - CONTINUE READING BELOW ↓
Any negatives?
The seat is set too high, the steering wheel doesn't reach close enough to your chest, and while the gear change is good, it's not on the same level as the throttle or steering response. Partly this is down to just how tall the gear lever is, Toyota borrowing the 86's steering wheel but not its stubby little knob.
These are all down to the car's nine-month development time. Peeters tells us that his team learned of Toyota's returning to WRC just one week before the news was made public, so their brief to make a Gazoo-badged Yaris was similarly tight.
So lots of the regular Yaris's construction—which was never intended to spawn a performance variant—simply can't be changed. The GRMN isn't alone in the hot hatch sector for these foibles, but when its price and spec are so serious, it's a shame the minor (albeit nerdy) details aren't all perfect.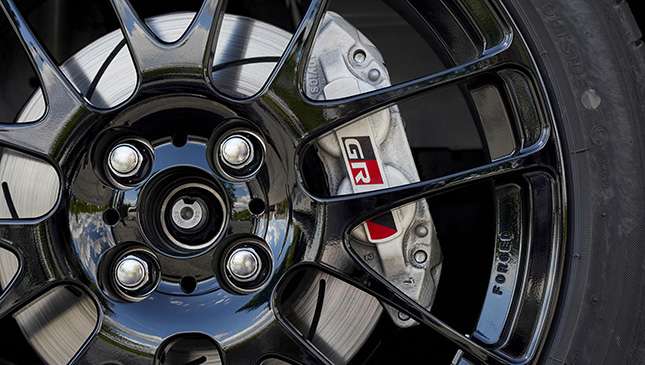 ADVERTISEMENT - CONTINUE READING BELOW ↓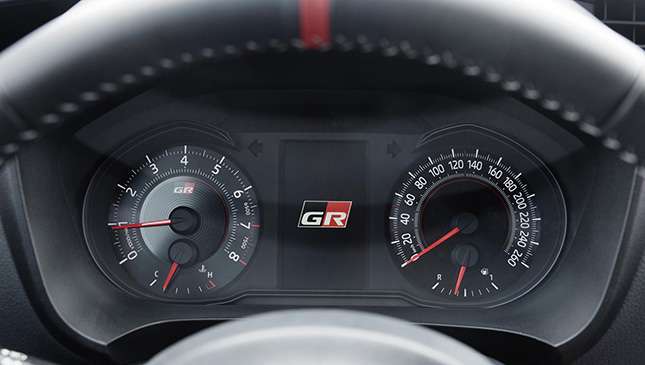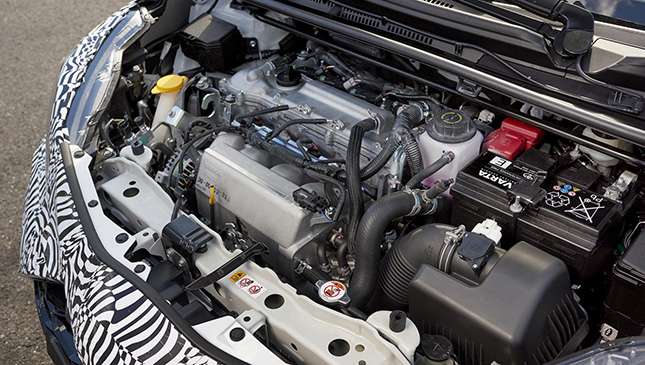 ADVERTISEMENT - CONTINUE READING BELOW ↓
NOTE: This article first appeared on TopGear.com. Minor edits have been made.