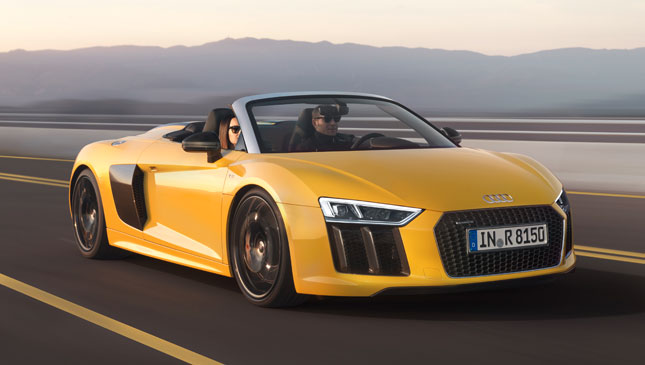 It was about a year ago when Audi revealed the all-new R8 at the Geneva Motor Show. An evolution of the automobile that put the German luxury brand in the realm of supercars, the R8 offered dynamic driving mixed with Audi's trademark tech goodness.
And just as a new R8 arrives, an open-top Spyder naturally follows. With Ferrari, Lamborghini and McLaren coming out with al fresco versions left and right, it is only fitting that Audi join the fray. This is what they did with the new R8 Spyder, revealed at this year's New York International Auto Show.
Just like Iron Man's ride, the newest topless R8 gets a new cloth roof that neatly folds into a limited space at the press of a button. The driver can go from closed-roof to open-air mode in merely 20 seconds at speeds of up to 50kph. And even components like the rear window fold and extend together with the entire mechanism for uncluttered operation and aesthetics.
In true Audi fashion, a slew of weight-saving measures were utilized to keep the mass down to a minimum. Thanks to the innovative Audi Space Frame technology, the R8 Spyder's dry weight is pegged at a tidy 1,612kg. This is made possible by the extensive use of aluminum in such places as the door sills, the A-pillars and the windshield frame. Carbon fiber is likewise used to keep weight down. Plus, all this multi-material construction pays off handsomely in the area of body and chassis rigidity. The new car is around 50% more rigid than the outgoing model. This helps in the handling department.
Continue reading below ↓
Recommended Videos
And with the brand's vaunted naturally aspirated 5.2-liter FSI V10 that produces 533hp and 540Nm, the awe-inspiring sports car promises razor-sharp maneuvers. The power is coursed to all four wheels by the renowned Audi Quattro all-wheel drive system, together with a seven-speed S-Tronic dual-clutch transmission. Those who are keeping tabs on acceleration times will be happy to know that this baby can do the 0-100kph blast in 3.6 seconds, with a top speed of 318kph.
The new Quattro system is notable in that it uses a hydraulic multi-plate clutch at the front axle. Power can be directed to either front or rear axle, depending on the need for traction. And of course, a drive mode selector affords a choice between a wide range of styles and characteristics to play with. There is even an optional three-mode system that lets driver choose between dry, snow and wet. It's the ultimate in behind-the-wheel customization.
This being an Audi, a wide range of equipment for infotainment, connectivity and luxury is available as standard or extra option. The Audi system, for instance, incorporates a set of seat-mounted speakers. These are located in the headrests and provide the utmost in sound quality even while you're driving at full tilt with the roof down.
But anyone who loves cars knows that the real treat would be to hear that engine at full blast with the wind blowing in your hair. Despite the weird weather and horrific pollution we're experiencing lately, we wouldn't mind getting a taste of this even for a brief moment. Now, that would be a dream drive.