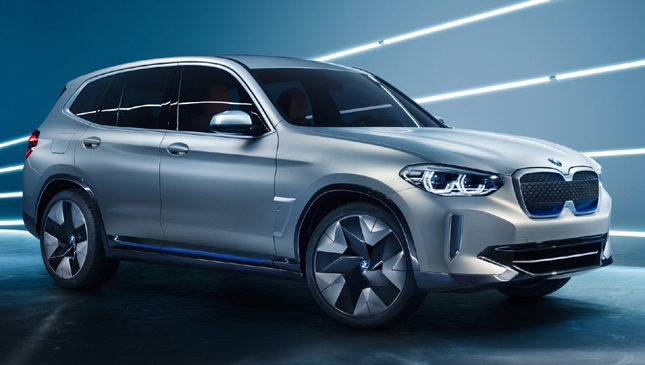 Meet the BMW Concept iX3, the latest vehicle borne of the German carmaker's mission to develop sustainable mobility. It's purely electric—the first Bimmer to do so, according to BMW (maybe it doesn't count the i3 because of the range extender?)—and should deliver functionality and comfort "without compromise," the company says.
It'll also run on BMW's latest eDrive tech, which features more potent batteries and improved performance, and was designed to be tucked into the brand's i series of cars. "The transfer of the drive system technology originally developed for BMW i cars into vehicles from the BMW Group's core brands is entering a new dimension here."
Continue reading below ↓
Recommended Videos
The new eDrive setup will feature a design that sees all major vehicle components—from the transmission and electronics—built into a single modular structure. This will allow parts to be easily configured into other models, as well as be more practical when it comes to space, BMW says.
"The electric motor, transmission and power electronics are now grouped into a single component, making it much easier to integrate them into different vehicle architectures. Plus, their modular construction enables them to be adapted to the performance levels required and the available space."
Output for the vehicle's electric motor is set at 270hp, while range is pegged at an impressive 400km. What's more, the 70kWh battery can be fully juiced in just 30 minutes via a 150kW fast charging station.
Outside of the tech and its electricals, the iX3 looks like your standard BMW X car. There's the signature kidney grille up front, and the familiar silhouette and muscular proportions. The most striking part aesthetically has to be the vehicle's matte Moonstone Silver paint finish—and not because its name sounds like the newest installment in Nintendo's Pokemon video game franchise.
BMW says the iX3 is playing a "key role" in the development of its new "iNext" strategy. If this is the future of the company's SUVs, then we're excited for what's to come.