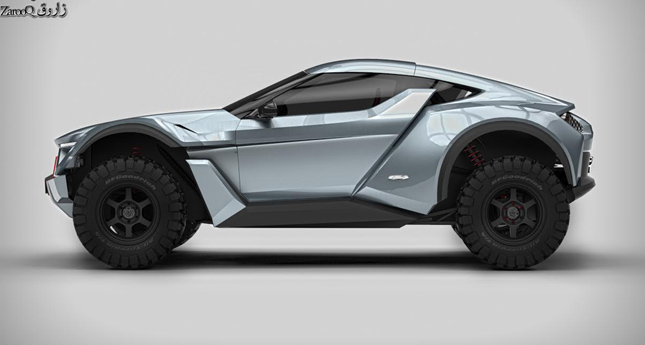 Have you ever wondered what would happen if a sports car copulated with an off-road vehicle? If you think that we've been watching too many Frankenstein movies, then maybe we're not the only ones. Check out the Zarooq Sand Racer, and you'll know what we mean.
A quick glance at this unique car off-roader shows a sports-car body that seems to be sitting atop large wheels and tires. That's no illusion, say the creators. The Zarooq Sand Racer is a collaboration between Zarooq Motors of Dubai, tuning and motoring specialist JJSpecial, and designer Anthony Jannarelly, who penned the lines of the W Motors Lykan and Fenyr models. The goal of this latest project was to come up with an iconic-looking off-road-capable vehicle with racing ability. The fruit of that dream is this Sand Racer.
Just like the look, the dimensions of the car are quite mixed. It measures a relatively tidy 4,200mm from bumper to bumper, yet is wide at 2,084mm, with a roll-cage height of just 1,220mm. What really sets this thing apart are the approach, departure and ramp-over angles of 45, 53 and 25 degrees, respectively. And with a ground clearance of 315mm, you're sure to traverse any given terrain with ease.
The Sand Racer will be powered by a 3.5-liter V6 engine that's mid-mounted, with a slight bias toward the rear. Power is rated at 304hp, while torque is pegged at 371Nm. The manufacturer has indicated that the former figure can go as high as 500hp, given a bit of tuning. Either way, the drive is transferred to the wheels via a six-speed automatic gearbox with paddle-shifters. And while the vehicle may only be 4x2, it is helped along in the sand by a long travel suspension, and extra-large 33x12.5 R15 tires.
But wait, all these numbers and specs are just the stock stuff. Buyers can choose to customize their Sand Racer with bits like a more powerful motor, an off-road suspension setup with appropriate wheels and tires, uprated brakes and exhaust, and a specialized FIA-spec kit. Moreover, the vehicle comes with a carbon-fiber body and interior, as well as a load of creature comforts--air-conditioning, an infotainment system, LED lights and even special paintwork. And all this weighs in at just 1,050kg at most. The hope is that this car will be used for the everyday trek, as well as that weekend race in the sand.
Speaking of which, Zarooq Motors is now in the process of creating a specially designed circuit in the UAE that will host training, racing and corporate events that will enter the Sand Racer in a one-make race. This will test both the capabilities of the car and its driver.
The Zarooq Sand Racer will be available beginning in January 2016. While the only sand dunes we have here in our country are in Ilocos, wouldn't the Sand Racer be a cool vehicle for our pockmarked roads?