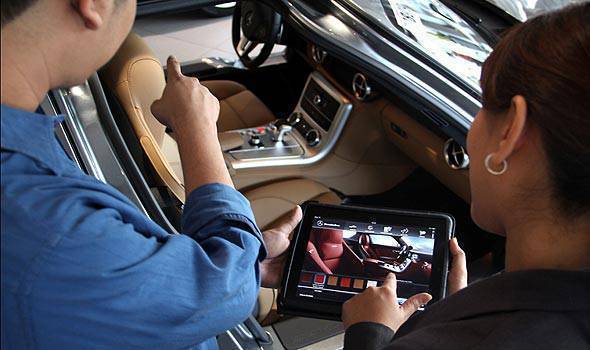 At the recent Bangkok International Motor Show, we were amazed as sales agents of some of the exhibitors sported an iPad to show off a vehicle's features to potential clients.
It seems the Philippine car industry is not that far behind when it comes to utilizing the same gadgets in a sales environment as CATS Motors, the exclusive distributor of Mercedes-Benz cars in the Philippines, has also provided its sales force with iPads to "create the ultimate showroom experience--even outside the actual showroom."
Unique to the iPads is the iShowroom, an iPad application exclusive to Mercedes-Benz that allows CATS Motors' sales professionals to easily showcase all Mercedes-Benz products and features wherever they may be.
The iShowroom acts as a digital brochure as it lets prospective customers choose and see which features and equipment best suits them and the car they're shopping for. With the iShowroom, colors and fabrics can be changed and the car can be rotated and seen in all angles, helping to facilitate the customer's purchase of a brand-new Mercedes-Benz faster and easier. In addition, videos and other interactive applications make the car-shopping experience even more exciting. Soon, the iShowroom would also include the latest pricing and financing options available.
Continue reading below ↓
Recommended Videos
"Our cars are packed with a lot of features--with the iShowroom, we are able to let our clients fully appreciate and understand our products," said CATS Motors' assistant vice president for sales Anthony G. Lao. "They have the right to know what exactly they are paying for--from the special optional features to the engine and chassis, it can all be viewed with the iShowroom."
If you'd like to see the iShowroom in action, drop by CATS Motors' Mercedes-Benz booth this weekend at the Manila International Auto Show.