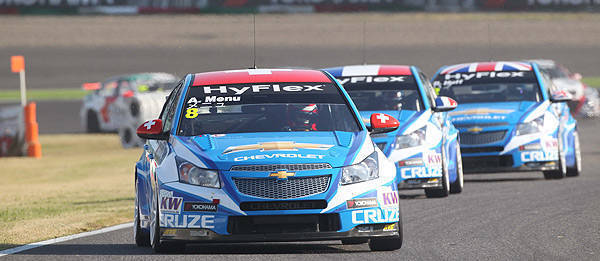 The 2013 World Touring Car Championship season may be Chevrolet's last in the racing series, but that doesn't mean the American carmaker is going away quietly since it has just secured its third consecutive manufacturers' title in the Japanese leg of the series held at the Suzuka Circuit.
Chevrolet's dominance in the race's qualifying stage gave it enough points to secure the manufacturers' title ahead of the leg's first round and with four more races to go in China and Macau. The story wasn't much different in the race proper as team drivers Alain Menu, Yvan Muller and Rob Huff went on to claim a 1-2-3 finish in the first round.
Chevrolet's focus on the WTCC is now for the driver's championship with Muller and Huff tied with 345 points for the top position.
"The whole team is both delighted and proud to have secured the manufacturers' championship for Chevrolet," said ML Group chief executive Ray Mallock. (ML Group is the race engineering outfit that runs Chevrolet's WTCC program.) "This third consecutive WTCC Championship underlines our ability to manage all aspects of a race program for a car brand to deliver multiple wins and multiple FIA world championships. The focus now moves on to the drivers' championship where the battle for the title will be fought within our team. In Yvan, Rob and Alain, we have three of the best touring car drivers in the world. It's going to be a fascinating contest that I believe will go right down to the wire."
ADVERTISEMENT - CONTINUE READING BELOW ↓
ADVERTISEMENT - CONTINUE READING BELOW ↓
Recommended Videos