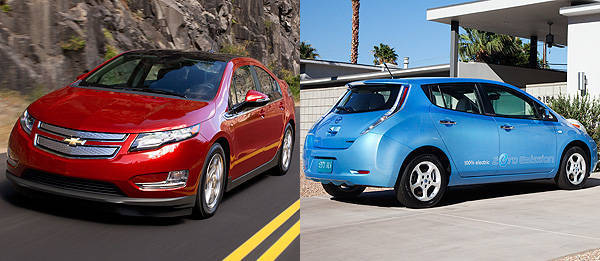 Both the Chevrolet Volt and the Nissan Leaf were named as Top Safety Picks by the United States' Insurance Institute for Highway Safety (IIHS) in its first-ever crash test evaluations of plug-in electric cars.
Besides earning the "good" rating in front-, side-, rear- and rollover- crash protection, having electronic stability control as a standard feature helped qualify the Volt and the Leaf to earn the institute's top award.
This milestone shows that carmakers are utilizing the same safety engineering in its present petrol-powered car lineup with today's new electric cars.
"What powers the wheels is different, but the level of safety for the Volt and Leaf is as high as any of our other top crash test performers," said Joe Nolan, chief administrative officer of the IIHS. "The way an electric or hybrid model earns top crash test ratings is the same way any other car does; its structure must manage crash damage so the occupant compartment stays intact and the safety belts and airbags keep people from hitting hard surfaces in and out of the vehicle."
Although both vehicles are new for 2011, they are very different from each other.
The Chevrolet Volt is a plug-in battery/gasoline hybrid that can run in electric-only mode for as far as 56 kilometers on a single charge before a gasoline engine kicks in to power the electric motor when the battery is spent.
Continue reading below ↓
Recommended Videos
The Nissan Leaf, on the other hand, runs on battery power alone and has an Environmental Protection Agency-estimated average range of roughly 117 kilometers on a single charge.
"Eco-minded drivers keen on switching to electric would do well to buy a Leaf or Volt for highway driving instead of a low-speed vehicle if they're at all concerned about being protected in a crash," Nolan added. "These electric models are a win-win for fuel economy and safety."
[gallery]896[gallery]