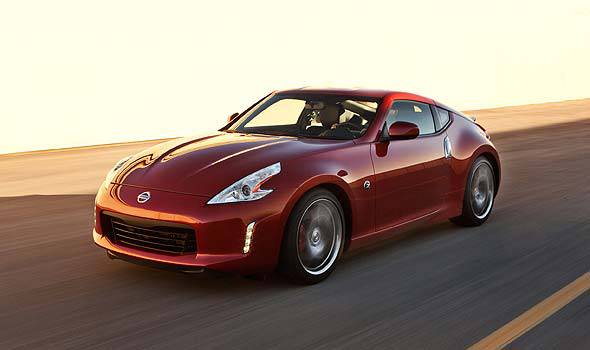 Revisions and enhancements on the Nissan 370Z will be made public in a few hours as the 2013 version of the sports car is set to debut at the Chicago Auto Show that opens today in the US.
"Since the original 1970 Z was first introduced, our goal has always been to keep the design moving forward," said Al Castignetti, Nissan North America's vice president and general manager. "The changes for 2013, though subtle, go a long way in enhancing its dynamic appearance inside and out."
The Nissan 370Z will still be available in three configurations: Coupe, Roadster and Nismo Z.
According to Nissan, the Coupe and Coupe Touring will be available with a standard 3.7-liter V6 engine with an output of 332hp. Coupe buyers will get to choose between a six-speed manual and a seven-speed automatic transmissions.
The Roadster and Roadster Touring configurations will be offered with the same powerplant, but the six-speed manual tranny will be available only in the Touring variant.
Meanwhile, the Nissan Nismo 370Z will come with a 3.7-liter engine that releases 350hp and 374Nm with its exclusive H-configured exhaust system design, muffler tuning and optimized engine computer module control. The Nismo 370Z will be offered with only one transmission --a close-ratio six-speed manual with standard SynchroRev Match. According to Nissan, this allows rev-matched heel-toe-like downshifting for the sports car.
Continue reading below ↓
Recommended Videos
The Nismo configuration also comes with a specially-tuned suspension, super-lightweight alloy wheels, and racing-inspired exterior and interior styling.
It is also made extra special with a new Bose premium audio package, two additional speakers and two subwoofers, premium gun-metallic dark finish 19-inch wheels, and the Nissan GT-R style high-rigidity brake hoses and performance brake fluid.
The 2013 Nissan 370Z will be available with two additional colors--Magma Red and Midnight Blue. The Nismo variant, however, will not be offered in Midnight Blue, and will not adopt the new front fascia and rear reflector as well as the Euro-tuned shocks of the 2013 370Z.
Nissan said more details of the 2013 370Z will be available closer to the sports car's sale starting June.