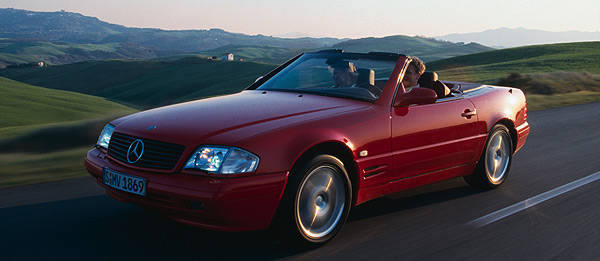 In the Philippines, a 1999 Mercedes-Benz SL 500 still costs over P1 million despite its age. A coach in the United States' National Football League, however, reportedly parted with his for just $20 (less than P850).
While he was the defensive backs coach for the Pittsburgh Steelers, Ray Horton puttered around in a red 1999 Mercedes-Benz SL 500 Roadster. Horton was also friendly with Maurice Matthews, a cook at the Steelers' cafeteria.
Matthews would often joke with Horton, asking him when he would let him drive his car, to which Horton would often reply that Matthews couldn't even afford to fill it up. When Horton, however, signed up to become the defensive coordinator of the Arizona Cardinals for the 2011-2012 season, he decided to surprise Matthews.
After saying goodbye to the cafeteria staff, Horton asked Matthews how much money he had with him. After Matthews replied that he had $20, Horton took the money and handed the keys to the SL 500 Roadster to Matthews and said, "Sold for $20!"
"I'm like, 'Stop playing with me Ray; don't play with me,'" Post-Gazette.com quoted Matthews as saying. "The other [workers] were looking at me, their jaws dropped. Ray said, 'Hey, you always liked the car, you're a good dude, I know you'll take care of it. It's yours.'"
Continue reading below ↓
Recommended Videos
The following day, just before Matthews drove Horton to the airport in the Mercedes-Benz, the coach gave the cook all the necessary paperwork to transfer the ownership of the car to his name.
"I'm still in shock," Matthews said. "I don't think it has hit me yet. I still pinch myself. I look out the window when I bring it to work and I just go, 'Man, that's mine.'"
We don't know about you but we're pretty sure a lot of Arizona Cardinals staff have been sucking up to Horton since this story came out.