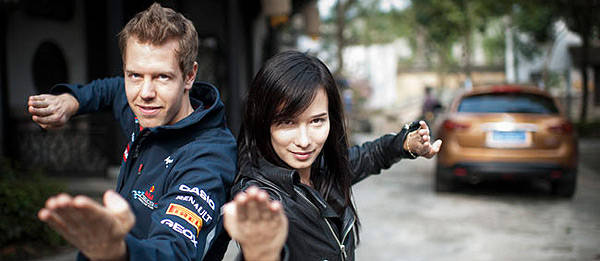 In the 2011 Formula 1 season, Red Bull Racing practically dominated the field with Sebastian Vettel finishing on the top step of the podium 11 times out of 19 races. As a matter of fact, with the exception of his retirement in the Abu Dhabi Grand Prix courtesy of a punctured tire in the first lap, his worst finish for the season was his fourth-place showing at the German Grand Prix.
For this 2012 season, however, Vettel has only been on the podium just once in the first three races, and that was his second-place finish in the Australian Grand Prix. After that, he's had to suffer the ignominy of finishing in 11th place at the Malaysian Grand Prix, and, for the recently concluded Chinese Grand Prix, Vettel had to fight from his 11th spot on the starting grid to finish the race in fifth place right behind teammate Mark Webber.
So what malaise could have been plaguing Vettel of late? We may have the answer: Apparently, he's been busy making a martial arts short film for Infiniti as part of the Japanese luxury brand's 'Inspired Performance' campaign. That's right, let that sink into your subconscious: Sebastian Vettel is making a martial arts short film.
Continue reading below ↓
Recommended Videos
Okay, while we can't imagine Vettel and Red Bull Racing derailing their 2012 campaign just to make a short film for one of their major sponsors, it'll be interesting to see the two-time and youngest Formula 1 world champion displaying some kung-fu moves. No word though if he'll flash his signature index finger 'No. 1' sign after he dispatches his foes.
If you're viewing this on a mobile device and can't see the video, please click here.