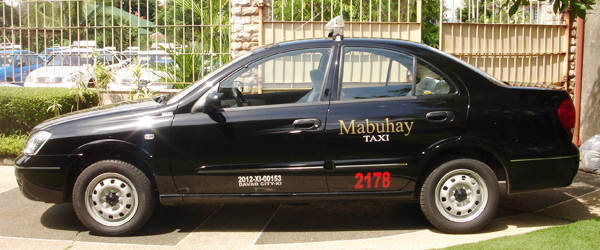 Starting today, Davaoeños can now pay for their taxi fares using either their ATM or credit cards as 20 units of Mabuhay Taxi, which operates out of Davao City, now has wireless point-of-sale (POS) terminals to facilitate the transaction.
Under the memorandum of agreement signed by China Bank, BancNet, and Mabuhay Taxi in April, the more than 200 units of the transport company will be equipped with wireless POS terminals, with 20 units as part of the initial roll-out. Thru BancNet, ATM cards issued by Megalink banks will also be honored.
"Today, almost everyone has an ATM card, and people are already familiar with POS transactions in stores and boutiques," said Joselito Crisostomo, branch head of China Bank Davao-Lanang. "Why not taxis? It's safe and convenient to use ATM and debit cards to pay for goods and services. What's more, there is no minimum payment for cab fares, even if it is below P100, the transaction will still be processed."
The program is the first of its kind in the Philippines, and as a pioneering project, aims to promote card-based transactions that are already used widely globally. China Bank's Davao-Lanang branch facilitated the deployment of the wireless POS terminals to Mabuhay Taxi, one of its longest clients and one of the oldest taxi fleet operators in the city.
Continue reading below ↓
Recommended Videos
"Mabuhay Taxi is very excited to partner with China Bank for this pioneering project," said Mabuhay Taxi assistant manager Pierre Ryan Tan. "Now, our passengers don't have to pay cash in select Mabuhay Taxis; all they have to do is swipe their ATM or debit card."
Both China Bank and BancNet are hoping that all of Mabuhay Taxi's units will be equipped with the wireless POS terminals within two years and that cashless payment could soon be the norm for paying fares in any public-utility vehicle.
Do you think this will work in Metro Manila?