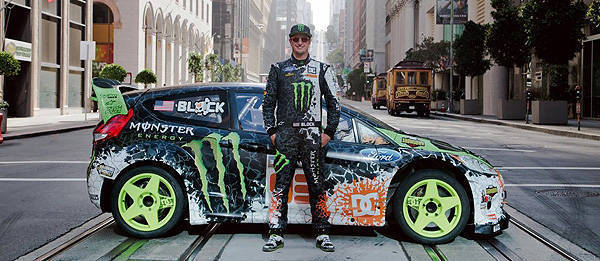 Don't be surprised if the Internet slows down on July 9 as DC Shoes releases Ken Block's Gymkhana 5 video on that day. In anticipation of the video's release, DC Shoes has made public the first teaser of what has become Block's highly anticipated video series.
The teaser sees Block and his Ford Fiesta-based Hybrid Function Hoon Vehicle on a barge in the middle of San Francisco bay with the music of Europe's 'The Final Countdown' playing in the background. The video then cuts to Block doing donuts on the barge, emitting clouds of smoke that we're sure could easily be seen by the people in their cars on the San Francisco-Oakland Bay Bridge.
"My idea for Gymkhana 5 was simple," said Block. "I wanted to build on the ultimate playground concept from Gymkhana 3, and bring the franchise back to that raw and fast feel that the earlier videos had. I've always wanted to film a Gymkhana video in a city, and there are few places as unique and iconic with such amazing topography as San Francisco. While movies like Bullitt and various chase scenes have tried to use San Francisco to the fullest, I'm pretty confident that I've proven there was a lot left to be done on those amazing streets!"
ADVERTISEMENT - CONTINUE READING BELOW ↓
Ken Block's Gymkhana 4 video has now reached over 18 millions views 10 months after it was released. While that number seems impressive, it pales in comparison to Block's Gymkhana 3: Part 2 video, which now has nearly 44 million views since it was released in September 2010.
How do you think the Gymkhana 5 video will fare compared to its predecessors?
If you're viewing this on a mobile device and can't see the video, please click here.
ADVERTISEMENT - CONTINUE READING BELOW ↓
Recommended Videos