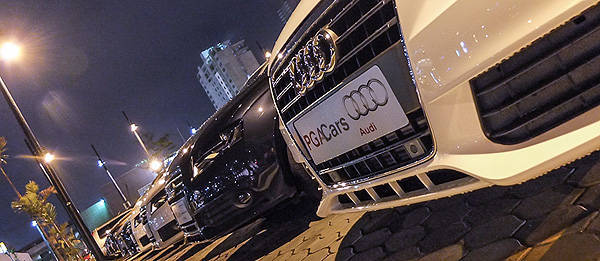 BMW's official distributor in the Philippines, Asian Carmakers Corporation, launched the all-new 3-Series last night in Bonifacio Global City. The venue was a large tent that ACC had erected on a huge parking lot located at the corner of 11th Avenue and 26th Street, right across the south end of Serendra.
To get to the venue in a car, you have to go through a road that dissects the middle of the parking lot. Oddly enough, as we were making our way through to get to the venue, we noticed that a number of Audis were parked side by side inside the parking lot and were conspicuously facing the aforementioned road that dissects the block. This means everyone who was going to the BMW 3-Series launch party had a good view of the Audi A4s, A6s and Q5s as they queued to park their cars.
While this could easily be mistaken as a random occurrence or a mere coincidence given the posh location--and the fact that the Audi showroom in BGC is just a stone's throw away from the venue--what gave it away as a deliberate stunt by Audi distributor PGA Cars were the following:
ADVERTISEMENT - CONTINUE READING BELOW ↓
* All nine Audi cars were grouped together by model;
* All nine Audis bore PGA Cars' nameplate;
* A barong-clad security guard stood by looking after the cars; and
* The trend-setting LED daytime running lights of all the cars were on.
But perhaps the most telling evidence is this: Our source, which dealt directly with the group running the parking lot, was told that when news got out that the 3-Series would be launched in that location, PGA Cars reportedly tried to lease a section of the parking lot for the night. What section specifically? The one facing the entrance to the venue of the 3-Series launch and directly adjacent to ACC's designated VIP parking slots.
While we're sure that what PGA Cars did isn't illegal, it certainly leaves a bad taste in the mouth. We can't imagine the Philippine distributors of Mercedes-Benz and Lexus pulling off a scheme like this.
ADVERTISEMENT - CONTINUE READING BELOW ↓
Recommended Videos
So, was this purely coincidental or bright-as-day intentional? You decide.
Photo by Mikko David