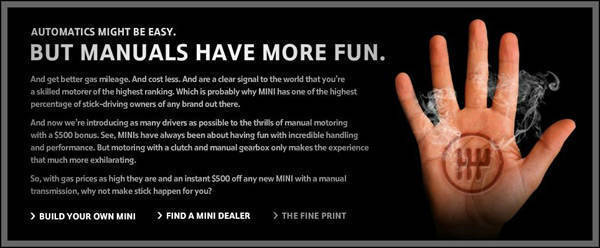 With more and more of today's cars being offered with automatic transmissions, dual-clutch gearboxes and CVTs, driving a stick shift-equipped automobile is fast becoming a dying art. Fortunately, one carmaker is making sure that car buyers will look at its manual-transmission-equipped cars as an attractive alternative by offering a $500 (a little over P21,000) discount for any one of its similarly-equipped vehicles.
Besides extolling the fuel efficiency offered by stick-shift-operated vehicles and how being able to drive one instantly marks the driver as a skilled motorist, Mini USA is throwing in an instant $500 bonus to anyone who buys one of its manual-transmission-equipped cars.
While a P21,000 discount hardly makes a dent in the Philippine-market price of even the most affordable manual-transmission-equipped Mini variant, which is the entry-level Mini Cooper that costs P1.825 million, that kind of amount is still nothing to sneeze at.
If British United Automobiles, the authorized distributor of Mini vehicles in the Philippines, were to make a similar promo, how much do you think they should take off the prices of the stick shift-equipped Mini Cooper, Mini Cooper S and Mini John Cooper Works to entice you to buy one? Let us know your realistic figures by posting it in the comment box.
Continue reading below ↓
Recommended Videos