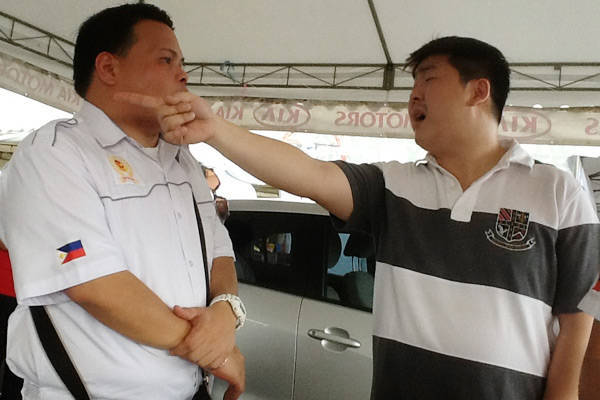 A disgruntled owner of a Kia Picanto made an attention-grabbing scene today at the Korean carmaker's booth in the ongoing Auto Focus Motorshow & Auto Expo at the Mall of Asia concert grounds, which will run until November 11. Nigel Yu, who sent Top Gear Philippines his complaint on October 22, went to the outdoor motor show and proceeded straight to the Kia booth to emphatically present his case before the personnel of Columbian Autocar Corporation (CAC), the exclusive distributor of Kia vehicles in the Philippines.
According to our source, Yu was complaining about his disappointment with his Picanto's fuel consumption, which, according to Yu, couldn't achieve the "advertised" mileage. He then made a reference to the recent discovery by the United States Environmental Protection Agency that US-market Kia vehicles have inflated fuel-economy claims, and said CAC should also compensate Picanto owners as Kia did in the US. (CAC has already issued a statement regarding the "inflated fuel-economy claims" in the US.)
Yu then loudly argued with Kia personnel and even asked customers at the Kia test-drive area not to patronize Kia vehicles.
Our source said it wasn't entirely clear what Yu really wanted since he didn't lay down a specific demand. Yu, however, asked Kia personnel what they could offer him by way of compensation if he continued to get a fuel mileage of less than 10km/L. He claimed that he had been getting a figure of just 6km/L. Later on, when Yu had calmed down, he joked that CAC should give him a Sportage if he still failed to get his desired fuel economy from his Picanto.
Continue reading below ↓
Recommended Videos
Our source said Yu refused CAC's offer to test and evaluate his Picanto unit.
The frustrated Picanto owner left but also promised he'd be back again tomorrow and that he'd even invite other Picanto owners to join him.
Last month, Yu sent us the following e-mail, which we published in the letters section of our November 2012 issue:
I just want to ask: Whenever you review the performance of a car, does your company make any money or do you get paid by the car dealer to make a review? I just want to make this clarification. The reason I want to know is because I recently bought a Kia Picanto after reading your review about the car being fuel-efficient, but I am quite shocked to have found out that it is not even near the fuel consumption you wrote in your car review. What's worse is that I recently found out that one of the dealer's sales agents even admitted that they have problems with the performance of the car, but Kia Philippines isn't even doing anything to rectify this problem with fuel consumption. And what's worse is they continue to dupe customers about the car. I'm in the process of reporting this matter to DTI-NCR and is contemplating on exposing this anomaly on the radio simply because Kia isn't doing anything to fix the problem.
Our reply?
We don't get paid to test-drive a car, unless you consider the occasional shirt, umbrella or Krispy Kreme donuts that come with the test unit "payment." Our reviews are purely editorial and have no connection with advertising whatsoever. Having said that, we do realize that the units we receive for testing are most likely primed for evaluation. Obviously, a car company wouldn't release a lousy unit to the media for test purposes.
We're not saying that car companies cheat. We're just saying there is a possibility that the units we get for test drives may not be 100 percent the same as the units sold at dealerships. Again, not to say this is the case--only a possibility.
Just the same, here is what the Picanto reviewer, Mikko David, has to say about your complaint:
"What I reviewed was a 1.0-liter manual-transmission Picanto for the website. The way I do my fuel-mileage runs is to first reset the on-board trip and fuel-consumption meters on a per-location basis. This means that when I drive in the city, I reset the computer as soon as I start the car and back out of the garage on the way to the office, for example. With the air-conditioning on and set at comfortable levels and without employing fuel eco-run tricks, I get the readings based on the on-board computer's display. Over the course of the test drive, I observe the average fuel consumption for city driving and that's what I report in the review.
"I do the same thing for highway runs. For this particulartest car, I took it from Quezon City to the Batangas Racing Circuit and back on a Sunday. Upon stopping over at the Petron station after Santa Rita exit for breakfast, I reset the fuel-consumption computer and then drove off to BRC at a steady 100kph pace. Naturally, fuel-economy figures would be higher in this case.
"As for Nigel's own fuel-economy results, it is difficult to know why his figures are 'not even near the fuel consumption' that I wrote. First, I don't know what figures he actually gets. Second, our methodologies are most likely different so our results are thus prone to discrepancies. Third, I don't know the condition of his car or the traffic he goes through when he measures his fuel readings.
"As for the comments from his sales agent, I can't really say much about that as I've never heard of these stories from my dealings with Kia personnel."
UPDATE: Nigel Yu, the Kia Picanto owner, has e-mailed us to clarify a couple of things in the article. He points out that, first, he didn't say that CAC should give him a Sportage if he continued to get poor fuel economy with his Picanto. On the contrary, Yu explains, it was he who offered CAC a Sportage as a reward if they could fix his Picanto. Second, Yu writes, it isn't true that he refused CAC to evaluate his Picanto. In fact, he reveals, CAC has already tested his Picanto twice, both times unable to remedy the problem.