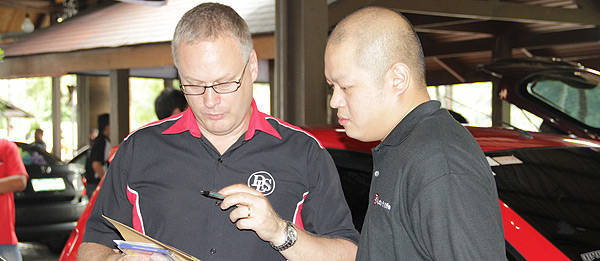 Back-to-back car audio competitions were held last July 30 at the People's Village of Tiendesitas in Pasig City as the venue played host to the 2nd DLS Philippine Open Competition and the 2011 Kicker Sound-Off Competition.
The 2nd DLS Philippine Open Competition focused purely on sound quality (SQ), with the judging based on how well the installation produced music that sounded as close as possible to the original source. Sixteen competitors were required to either set up a standard installation package for the Classic and Pro categories, or utilize any DLS audio configuration in the Open category.
For the DLS Classic category, the standard equipment setup was a JVC AVX-55 head unit linked to a DLS audio system, which consisted of a CA-31 3-channel amplifier, R6A two-way speakers with tweeter, and an RW10i subwoofer. The grand prize was awarded to a Toyota Yaris owned by Oliver Cristobal, with JC Car Audio as the installer.
For the Pro category, the required setup consisted of any audio head unit with the following components: Scandinavia 1, a 28mm soft dome tweeter; Scandinavia 6.2, a six-inch midbass/midrange driver; Scandinavia Xover two-way filter boxes; TA2 two-channel amplifier; and RW12i subwoofer with A6 amplifier. Winning the grand prize for the DLS Pro was a Nissan Verita entered by Mickey's Autosound.
Continue reading below ↓
Recommended Videos
The champion for the DLS Open category, which allowed any entry with a DLS audio setup, was a Toyota Fortuner owned by Dong Chung, with installation by Mickey's Autosound.
International EMMA (European Mobile Media Association) head judge Peter Flodqvist flew in from Sweden to supervise the event and serve as SQ judge, while Glen Saitowitz, a locally based Swiss national and EMMA head judge/trainer, evaluated the installation quality of the entrants.
For car-audio buffs who prefer powerful amplifiers, the 2011 Kicker Sound-Off Competition saw 28 entries competing in the Fixed and Open categories, with the judging based on the average metered scores measured with the doors closed and also with the doors open.
The Fixed category required the entries to use a Rockford Fosgate T1500-1BD amplifier and a Kicker 2010 CVR124 subwoofer. Winning the cash prize and trophy as champion was Elgin Dee, with installation by Quest Audio.
Any vehicle with an existing Kicker subwoofer installation was eligible for the Open category, classified into two-woofer, three-woofer and four-woofer classes. Declared champions at the end of the day were Dennis Hizon, Jeffrey Palcone, and Egay Mercedes and Jason Diwa, respectively.
Both DLS and Kicker products are exclusively distributed in the Philippines by TSL Marketing Corporation, a member of the Winterpine Group of Companies, which has been in the car audio industry for the past three decades.