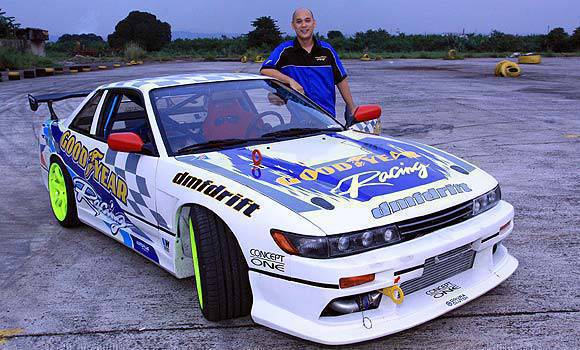 DMF Drift hopes to make the country proud when the team represents the Philippines in Formula Drift 2009 Series in Thailand next month and in Malaysia in December.
DMF Drift is led by David M. Feliciano, who pioneered drifting in the Philippines in 2005. He established the DMF Garage, which tunes and modifies cars for drifting; and the DMF Drift School, which provides students with the right skills and attitude for drifting.
ADVERTISEMENT - CONTINUE READING BELOW ↓
Feliciano's team includes Alex Perez, head instructor at the DMF Drift School, as well as two other known local drifting experts--Ian King and Kevin Tayao.
Feliciano is competing with a 1990 Nissan Skyline PS13 equipped with Goodyear high-performance tires--Eagle Revspec RS-02 and Eagle RS Sport from Japan--for the Formula Drift competition.
ADVERTISEMENT - CONTINUE READING BELOW ↓
Recommended Videos
Goodyear Philippines consumer replacement manager Dan Aquino said the tires were designed to give the DMF Team the best grip and control for the Formula Drift competition.
The Philippine team will compete with 2001 D1 Japan Grand Prix champion Ryuji Miki and "Mad Mike" Whiddett of New Zealand, as well as other drifters from Hong Kong, Malaysia, Singapore, and Thailand.
Formula Drift challengers will be judged based on speed, line, angle and overall impression during the drifting competition.