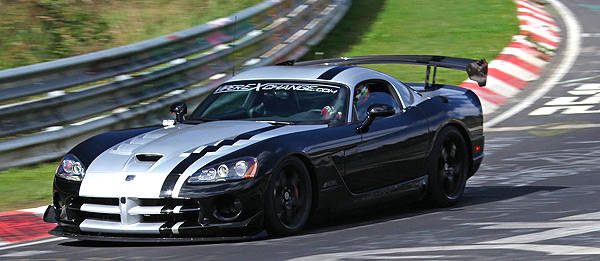 The Lexus LFA Nurburgring Package's record for the fastest time set by a production car at its namesake German circuit didn't last for even a month as a street-legal, track-ready Dodge Viper ACR took it back with a time of 7 minutes and 12.13 seconds. It demolished the LFA Nurburgring's time of 7 minutes and 14.64 seconds.
"We're extremely proud to set the lap record for a second time at the famed Nurburgring Nordschleife," said Ralph Gilles, president and chief executive of Chrysler Group's Street and Racing Technology (SRT) Brand and Motorsports. "Our team returned to Germany knowing we'd left some time on the track when we set our first lap record, so this effort shows the incredible depth and capability the Viper ACR has by running a full 10 seconds faster than we did in 2008."
Since Chysler has stopped the production of the Viper in 2010, SRT teamed up with the Viper Club of America and the ViperExchange by Tomball Dodge team from Tomball, Texas, which supplied two brand-new 2010 Dodge Viper ACR's off of its showroom floor for the record-setting effort.
With veteran GT driver Dominik Farnbacher behind the wheel of the Viper ACR for the two-day session, the car's best lap on the first day was already a blistering 7 minutes and 15.6 seconds before the car claimed the record once more at the final lap on the second day.
Continue reading below ↓
Recommended Videos
SRT's first official visit to the Nurburgring took place in August 2008 when the then-newly launched Dodge Viper ACR came to Germany with Dutch driver Tom Coronel and established a new production car lap record time of 7 minutes, 22.1 seconds.