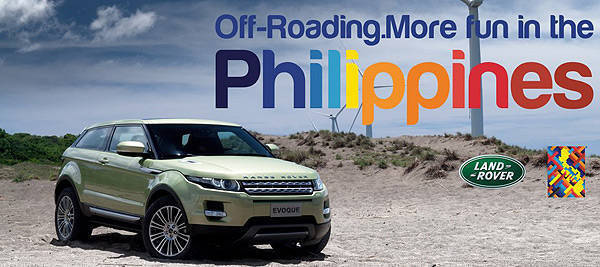 The Department of Tourism (DOT) and the Tourism Promotions Board (TPB) have teamed up with LRPhils Motors, the authorized distributor of Land Rover vehicles in the country, to promote domestic tourism through its "More Fun in the Philippines" campaign.
"We are very excited with this project with DOT and TPB, which will run until 2013 and hopefully will include an international campaign as well," said LRPhils Motors executive director Marc Soong.
Dubbed "Land Rovering: More Fun in the Philippines," the campaign will include a series of Land Rover TV commercials and print advertisements that will feature local tourist spots and off-road destinations in the country. Land Rover is the first automotive brand to tie up with DOT through the latter's popular and viral campaign.
To kick off the campaign, LRPhils showed the first video to the media. To air starting in October, it shows the Range Rover Evoque driving through the scenic spots of Ilocos Norte, including the Paoay sand dunes, the Bangui wind mill farm, and the Patapat viaduct.
"DOT is proud to have found support from a distinguished world-class brand like Land Rover in our campaign to promote Philippine tourism," said DOT assistant secretary for tourism planning and promotions Domingo Ramon Enerio, who is also the officer-in-charge of the TPB.
Continue reading below ↓
Recommended Videos
If you're viewing this on a mobile device and can't see the video, please click here.