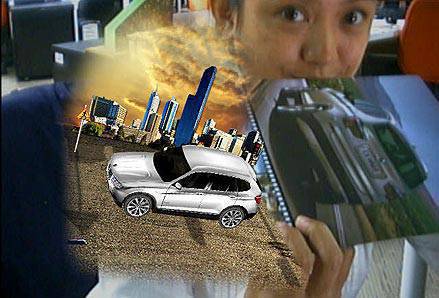 If you had fun playing with the augmented reality-based (AR) BMW Z4 in our December 2010 issue, then you might want to check out a similar rendering with the recently launched BMW X3.
Grab a copy of Top Gear Philippines' March 2011 issue and flip the front cover. You'll find the two-page-spread advertisement of the all-new BMW vehicle and at the bottom-left side is a black box marked with X3. That's the trigger and all you have to do is hold it up in front of your computer's video camera and you can take the BMW X3 compact crossover down the highway, off to the beach and even up a dirt path to the mountains.
You can also share the fun by capturing a photo of yourself with the BMW X3 AR feature and posting it on BMW's website. So if you already have Top Gear Philippines' March 2011 issue, just turn a page and turn on your computer. Joy begins when you visit www.bmw.com.ph/X3ar.
Photo from the BMW X3 AR page
Continue reading below ↓
Recommended Videos