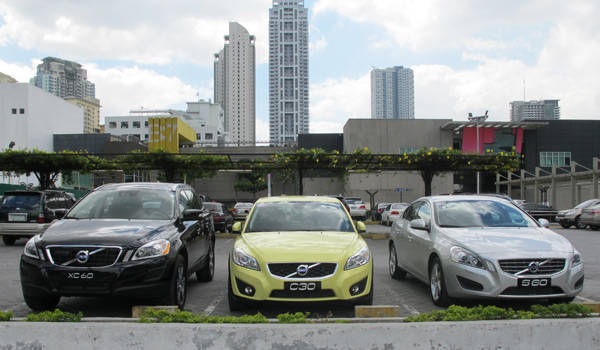 In May, when Asian Carmakers Corporation launched the all-new BMW 3-Series at Bonifacio Global City in Taguig, PGA Cars "crashed" the party by strategically parking nine brand-new Audi cars right in front of the tent venue in which the 3-Series event was being held. Some probably viewed this as a clever marketing move, but we simply thought it cheap. Very cheap.
Apparently, among those who were impressed by PGA Cars' tactic was Volvo Philippines. Last Saturday, we spotted three brand-new Volvos (XC60, C30 and S60) neatly parked at Bonifacio High Street, directly facing the BMW Expo 2012 venue. Coincidence? Yes, if you think three Volvo owners (whose cars were all so new they didn't have license plates yet) somehow parked in the same place at the same time. And there weren't other cars parked near them, because there were still so many vacant slots near the parking-lot entrance, which you would normally occupy for a shorter walking distance to the BHS complex.
So, yes, we think this was the handiwork of the Swedish car brand's local distributor. Which we find almost hard to believe because the company's marketing team used to have so much class. In the words of one ACC executive: "You have to wonder if our rivals are so desperate to market their cars that they're piggybacking on our events."
Continue reading below ↓
Recommended Videos
We don't know about you, but we find these antics not just very unprofessional but also very non-premium. The gate-crashing stunts imply that the perpetrators are doing so poorly they don't have a marketing budget of their own. It's the sort of thing you'd expect from Chinese car brands, not European automakers.
Wait...Volvo is owned by Geely now. Sorry, we keep forgetting.
Photos by Vernon B. Sarne