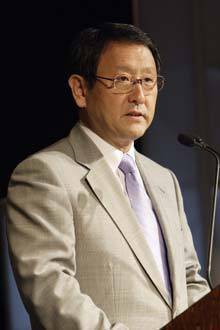 Toyota Motor has entered a settlement agreement with the family of the four people who were killed in the accident which triggered a series of vehicle recalls due to "sudden unintended acceleration."
The settlement was made "through mutual respect and cooperation," AutoNews.com. said, adding that the parties involved "were able to resolve this matter without the need for litigation." No other detail about the settlement was disclosed.
The accident which occurred on August 28, 2009 involved California highway patrol officer Mark Saylor, his wife, daughter and brother-in-law who were in a 2009 Lexus ES 350 when the vehicle sped out of control. The vehicle reportedly crashed, flipped over and caught fire, leaving all four occupants dead. Toyota president Akio Toyoda (in photo) apologized to the family of the victims during a hearing before the US Congress early this year.
The investigation that followed identified a jammed floor mat as the possible cause of the accident, prompting Toyota to issue its biggest recall in the United States on September 30, 2009. The recall involved 3.8 million vehicles in the US and as much as 8 million worldwide.
The U.S. National Highway Traffic Safety Administration said 89 deaths could be attributed to Toyota's acceleration issue as of May 2010.