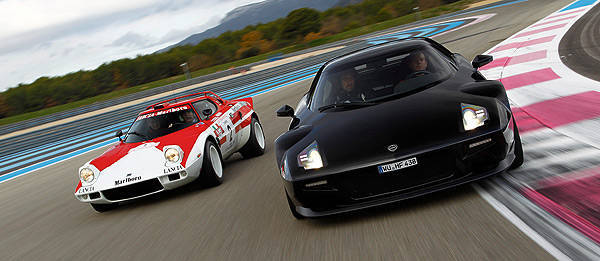 The reincarnation of the legendary Lancia Stratos--appropriately called as the New Stratos--has proven to be so popular that, despite being a one-off model originally, over 40 individuals have expressed their interest to acquire one.
Unfortunately, the New Stratos may just be a one-off model after all as Ferrari has reportedly blocked the construction of additional models.
According to Pininfarina, the designer and developer of the New Stratos, additional models could be produced using the chassis of either a Ferrari F430, which is similar to the one-off model, or a 360.
Pininfarina, however, has advised Michael and Maximilian Stoschek, the commissioners of the New Stratos, that it "will only carry out (the) construction of a limited run with the express permission of Ferrari." The Italian coachmaker added that Ferrari "does not consent to (the) construction of the planned limited run by either Pininfarina or any other Ferrari-dependent suppliers."
While this may mean the end of the New Stratos' run with Pininfarina, it may still be possible to construct additional models but only through, as the Stoscheks' pointed out, "via companies that are not dependent on Ferrari."
So it's still possible to get a New Stratos after all. The question is if it'll have the same value as the one-off done by Pininfarina.
Continue reading below ↓
Recommended Videos
The New Stratos appeared in the May 2011 issue of Top Gear Philippines.
[gallery]972[gallery]