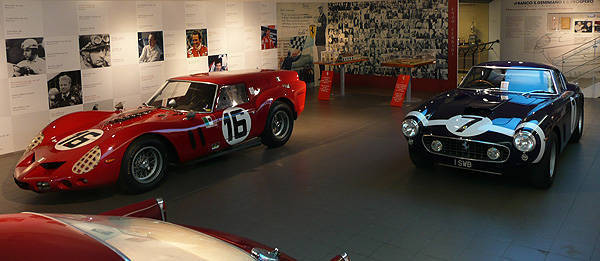 The Ferrari 250 is arguably the Italian carmaker's most cherished model, with well-restored examples of it often going for millions of dollars. As a matter of fact, one specimen--a 250 GTO--was sold in 2010 for £12 million (over P819 million). To celebrate the model's 60th anniversary, the Ferrari Museum in Maranello has organized a series of exhibitions of the most famous cars to bear the 250 moniker.
Leading the display are two of the most fascinating and interesting examples of the model: the Ferrari 250 GT Berlinetta SWB--with which Stirling Moss won four races in 1961 at Silverstone, Brands Hatch, Goodwood and Nassau--and the so-called Breadvan.
According to Ferrari, Moss's 250 GT SWB "was originally built as part of a chapter in motor-racing history that sadly went unwritten." Enzo Ferrari had supposedly reached an agreement to supply the Rob Walker Racing Team, which Moss was a part of, one of his Formula 1 cars specifically for Moss's use. However, just before the project was to debut for the 1962 season, Moss was badly injured in a crash that effectively ended his racing career. After years in storage, the car was recently restored by the Ferrari Classiche department.
ADVERTISEMENT - CONTINUE READING BELOW ↓
The Breadvan's story is just as interesting as the 250 GT SWB. Commissioned by Giovanni Volpi to compete against the 250 GTO and developed on the same running gear as the 250 SWB, the car's experiment with aerodynamic styling made it look more like a racing van than a racing car. Dubbed as the 'Breadvan', it was fast and raced several times, including at Le Mans.
However, Enzo Ferrari refused to recognize it as one of his cars as it had been built by former Ferrari engineers for a former Ferrari customer who had left the Italian carmaker due to political in-fighting within the company. In 2010, Ferrari awarded the Breadvan the 'Attestation for Vehicles of Historic Interest,' a document issued for Ferraris that--"although they do not comply with the strict Ferrari Authenticity Certification criteria--are deemed to be of historic interest because of their competition and/or recognized international show history."
ADVERTISEMENT - CONTINUE READING BELOW ↓
Recommended Videos