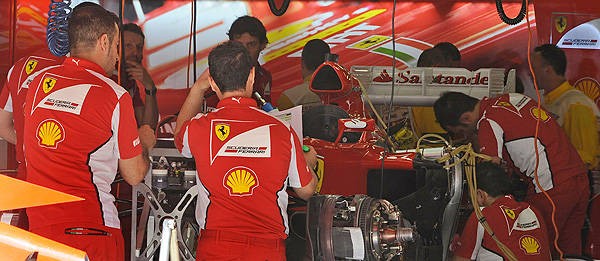 While updates given to a Formula 1 car in between races usually concern its aerodynamics, Ferrari will be getting something that it calls "an important but invisible update"--a new fuel from from its long-term partner and fuel and lubricant supplier Shell at this weekend's Spanish Grand Prix.
"Shell is introducing a new V-Power fuel here in Spain with the aim of giving Ferrari a performance benefit," said Mattia Binotto, Scuderia Ferrari's engine and KERS operations boss. "Development of a new fuel takes a few months and it involves a lot of time, energy and resources. Shell begins developing a new fuel by screening several different samples in its laboratory before supplying what it believes to be the best candidates to us at Maranello. We then run performance checks on the dyno, although performance is not the only parameter, as we also look at combustion efficiency, speed of combustion, consumption and also power output. Then, the best sample is selected and undergoes reliability tests. This is a time-consuming process and we are happy to introduce this new Shell V-Power fuel here in Spain as we expect it to give us an advantage."
ADVERTISEMENT - CONTINUE READING BELOW ↓
Binotto though is cautious about how much an advantage the new fuel would give to the team, saying that if everything works as planned, it could improve the team's position on the grid by one place.
ADVERTISEMENT - CONTINUE READING BELOW ↓
Recommended Videos
"Given the engine freeze, there is very little one can do to enhance the performance of our 056 (engine), but this is one way that is allowed," Binotto added.