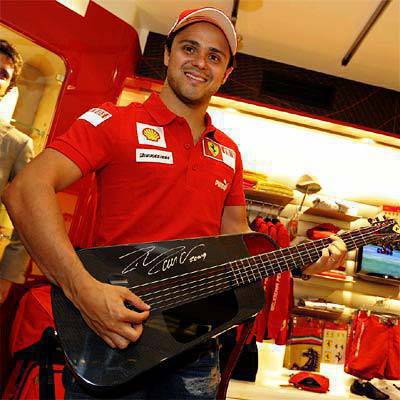 Ferrari is not above putting its name and logo in different kinds of merchandise. There are your typical Ferrari-branded colognes and key chains to more high-end, premium items like carbon fiber watches and backgammon sets. If you're a musically-inclined Ferrari lover, there's something in store for you, too.
The Italian carmaker has teamed up with Blackbird, which specializes in acoustic guitars made of carbon fiber, for the creation of the Ferrari Blackbird Guitar. The guitar is based on Blackbird's Rider model made by Blackbird designer and founder Joe Luttwak, who worked on the Ferrari guitar at the marque's home in Maranello, Italy.
Continue reading below ↓
Recommended Videos
"Great acoustic guitar construction, like great race car construction, benefits from stiff and ultra light materials. Using carbon fiber, like Ferrari's Formula 1 race cars, for the guitar's uni-body design produces an instrument that sounds better and is much more durable than any travel guitar available today," Luttwak said. "Many ideas for Blackbird Guitar's models were inspired by my time at Ferrari, and it's wonderful to make a model that honors their unparalleled technology, ingenuity and success."
The Ferrari-branded guitar sports the exclusive Maranello Red interior, an accented red A string, and the Ferrari Scuderia emblem on the head. It would also be hard to miss the signatures of Ferrari F1 drivers Felipe Massa and Kimi Raikkonen on the guitar.
Unfortunately, the first run of the Ferrari Blackbird Guitars has been sold out. Perhaps like the Ferrari car, we can only admire this marvelous piece of technological engineering in photos.