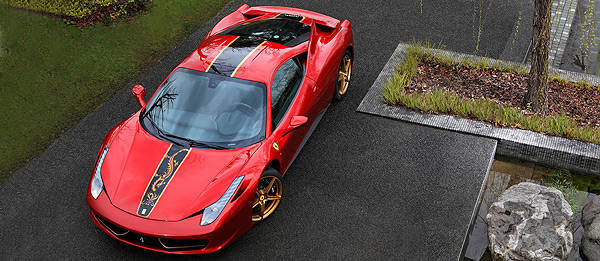 China is one of the last remaining bastions of communism in the world. And yet Ferrari, the status symbol of choice among capitalists everywhere, is marking its 20th anniversary in the country by creating a special-edition model of its 458 Italia that--you guessed it--is limited to only 20 units.
The car's livery is characterized by unique Chinese elements and is finished in Marco Polo Red, a brand-new color that was specially developed for the special-edition model. According to Ferrari, the inspiration behind the car's livery came from an old Chinese idiom which, in English, translates to "the vigor and spirit of the legendary dragon-horse."
As such, the most eye-catching element of the car's exterior is the golden dragon on the hood that's offset by gold and black livery stripes that symbolize a racetrack. Overall, the presence of the soaring dragon and the Prancing Horse logo on the hood, together with the gold finish on the rims and aeroelastic winglets, serve as the finishing touches to the car's overall design.
For its interior, the car sports gold embroidery on its headrests; its engine start button is inscribed with the simplified Chinese characters for 'start'; and a '20th Anniversary Special Edition' plaque is set into the dash.
Continue reading below ↓
Recommended Videos
Who knows? Perhaps 20 years from now, Ferrari might make a limited-edition version for the Philippine market. And in case you want to know, the very first Ferrari ordered in China--from Beijing, precisely--was the 348 TS.