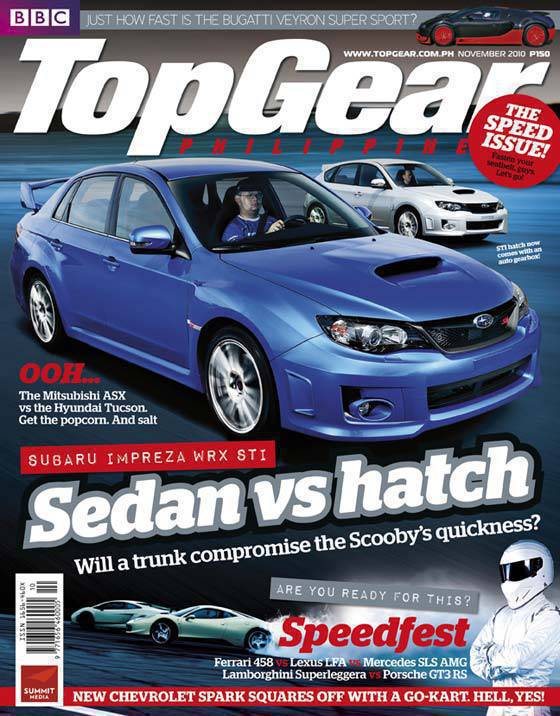 It's that time of the month again when we bribe our production people to send us a low-res file of Top Gear Philippines' upcoming cover. We think this cover of the November issue is simply awesome. We also see a few giveaway stories based on the cover blurbs:
* It's called "The Speed Issue," which tells us the featured cars in this issue are all pretty fast;
* The cover cars are the Impreza WRX STI sedan and hatchback, supposedly jostling with each other for top billing in Subaru's product lineup;
* At the topmost part of the cover can be seen the Bugatti Veyron Super Sport, which we hear is now officially the fastest production car on the face of the earth;
* There's also a Supercar Speedfest, featuring the Ferrari 458 Italia, the Lexus LFA, the Mercedes-Benz SLS AMG, the Lamborghini Gallardo Superleggera, and the Porsche GT3 RS;
ADVERTISEMENT - CONTINUE READING BELOW ↓
* There's a smug photo of the Stig. Wait...we thought this dude had been sacked?!;
* The foot blurb reveals that our boys actually raced the new Chevrolet Spark against a...go-kart; and
* A not-so-little blurb on the left-hand side says there's a comparo between the Mitsubishi ASX and the Hyundai Tucson.
A little bird also told us there's the face-lifted Toyota Corolla Altis inside, driven hard at the Sepang International Circuit. And also the Dodge Charger. And the Lamborghini Sesto Elemento. And the...well, just get a copy of this superb issue.
ADVERTISEMENT - CONTINUE READING BELOW ↓
Recommended Videos