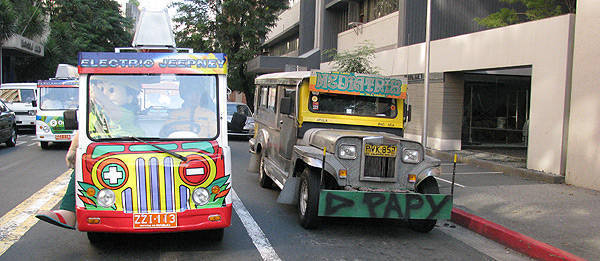 eJeepney Transport Corporation (EJTC), the very first operator to hold an electric public-utility jeepney commercial franchise, is set to commence operations at Legaspi and Salcedo Village in the Makati City commercial business district on March 1 with a minimum fare of P8.
"We may be the first to hold the commercial franchise but what we want is to have more green operators replicating the initiative all over the country," said Yuri Sarmiento, chief executive of EJTC. "With an e-jeepney, you don't have to rely on fossil fuel anymore which, in the end, could save both the operator and the driver as much as P16,000 per vehicle. The money saved could then go to more important things like their children's education, for example."
Sarmiento added that EJTC hopes to show small jeepney operators, drivers and commuters the commercial feasibility of shifting to electric jeepneys.
What will also set EJTC apart from the operators of traditional, fossil-fueled jeepneys is that drivers will be treated as regular employees. Besides earning a steady salary, they will also get the full benefits mandated by law like Social Security System benefits and Philippine Health Insurance Corporation coverage as well as a 13th-month bonus.
"By treating the drivers as regular employees, we are able to utilize the e-jeepneys more efficiently as each one of our 20 units can run on a set schedule, allowing our passengers to know when the next e-jeepney will arrive at their stop, unlike the old boundary system that forces the drivers to run the jeepneys intermittently, leaving the passengers at their mercy," shared Sarmiento.
Continue reading below ↓
Recommended Videos
EJTC's operation of the Legaspi and Salcedo Village loops will begin on Thursday with the 20 units running from Monday to Saturday from 9am to 7pm. Prior to this commercial operation, the e-jeepneys for both loops were run by the Institute for Climate and Sustainable Cities (iCSC) and rides were offered for free.