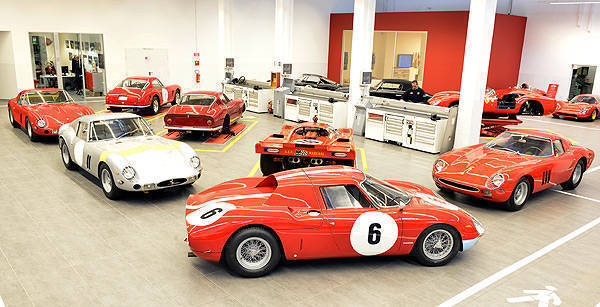 The Ferrari 250 GTO is one of the rarest classic Ferrari models today, with only 250 units built between 1962 and 1964. With the interest in classic Ferraris rising in the auction circuit, Ferrari Classiche--the Italian carmaker's in-house specialist department--has recently received an upsurge in requests for certifications and restoration projects, with five 250 GTOs now being worked on inside its packed workshop of 24 cars.
Along with the five 250 GTOs, other Ferraris of historically significant value that are reportedly now undergoing restoration at the Classiche department are two 250 Testa Rossas--including the 1957 model that Phil Hill drove to claim the checkered flag at the 1958 24 Hours of Le Mans--as well as three of just 32 250 LMs produced. Other significant cars include three short-wheelbase 250 GT Berlinettas, a 1956 500 TR, and the 512 M that came fourth overall at the 1971 24 Hours of Le Mans.
To date, Ferrari's Classiche department has completed over 60 full, ground-up restorations--several of which have gone on to considerable success in the international Concours d'Elegance circuit--and processed over 3,800 authentication certification applications.
In addition, Classiche has cast numerous new engine parts--including 25 new V12 cylinder blocks and a similar number of cylinder heads--to help restore cars to original specifications, thanks to the department's exclusive access to Ferrari's original technical blueprints and molds.
Continue reading below ↓
Recommended Videos