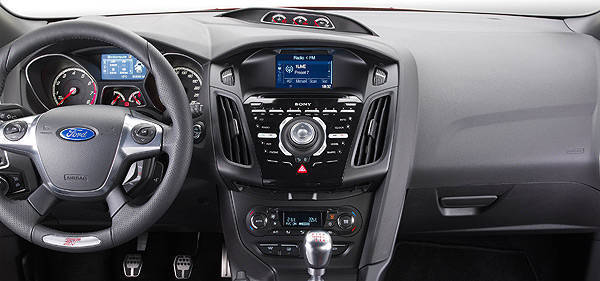 When Ford developed the all-new Focus, its engineers raised the bar for refinement by cutting noise and improving soundproofing. But for a high-performance car like the Focus ST, the engine sound is an integral part of the driving experience, so the American carmaker's engineers came up with a solution "that delivers a sporty soundtrack or a more peaceful journey, depending on driver inputs."
"Focus ST drivers want to hear the engine sing when they put their foot on the gas," said Ford of Europe's vehicle sound quality expert Bjoern Boettcher. "Our cars are engineered to be quiet inside the cockpit, so we have to pull out a few tricks to give enthusiastic drivers the sound they crave--and that's where our Sound Symposer comes in."
The Sound Symposer amplifies the sound produced by the engine and channels it along a pipe to the dashboard panel where it can easily be heard by the driver. Developed specifically for the new 247hp, 2.0-liter EcoBoost Focus ST, the system triggers an electronically controlled valve to open under heavy acceleration, practically doubling the engine's in-cabin volume level. Under moderate acceleration, however, the valve remains closed, letting the driver appreciate a more peaceful environment.
"If you take away the symposer, you get close to zero engine noise in the cabin under acceleration--it's that effective," added Boettcher. "Getting the right sound for the right vehicle is to a certain degree a case of trial-and-error and attention to detail. After developing the right position for the Symposer in the sound lab, we took it to the track and kept refining it until we really felt we had a match. The final version fits the ST's DNA perfectly: quiet enough to make daily driving a pleasure, yet loud enough when you want to have some fun."
Continue reading below ↓
Recommended Videos