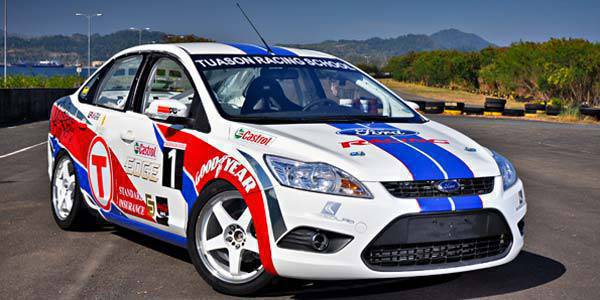 Tuason Racing School and Ford Philippines have decided to replace the old Ford Focus hatchbacks with new units and pledged to take Philippine motorsports "to the next level."
New cars for the Tuason team are based on the post-facelift Ford Focus sedan powered by a 1.8-liter engine dyno-tuned by Speedlab to produce 125hp. A strict diet took away around 200kg of unnecessary weight off the car. Additional weight-saving methods include the use of lightweight racing wheels and lightweight fiber-reinforced plastics for the body panels.
"We are taking our commitment to local motorsports to the next level," said Steven Tan, Ford Group Philippines vice president for marketing and sales. "After winning the PTCC (Philippine Touring Car Championship)...and performing well in the GT (Philippine Grand Touring) races last year, we want to show that the Ford Focus, with its racing heritage, is the racer's choice for the new age of competition."
Continue reading below ↓
Recommended Videos
The Tuason Racing Team--composed of team principal and multi-awarded race car driver JP Tuason and teammates Stuart MacDonald (United Kingdom), Marcus Wong (Singapore), Velli Kaikonen (Finland), Sean Redbath (UK), and TRS students Bobby Noriega, Ding Dizon and Bobby Horrigan--will use five Ford Focus 1.8 units for the GT and the PTCC races this year.